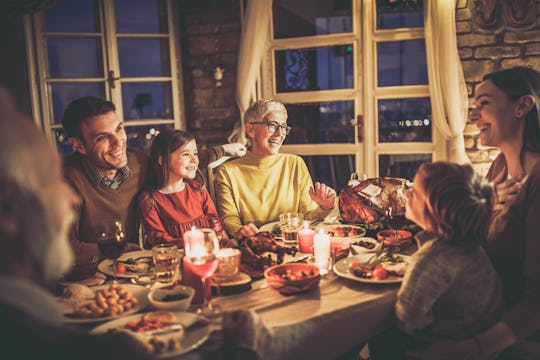 skynesher/E+/Getty Images
14 Easy Family Games & Activities To Help You Connect This Thanksgiving
And I mean seriously easy.
We may receive a portion of sales if you purchase a product through a link in this article.
Thanksgiving is my absolute favorite holiday. While I do host my entire family (nine adults and seven kids) and it can get a little stressy in the kitchen, there is nothing I love more than everyone being at my dining room table together. It's even better than Christmas, where we have to follow more of a schedule with presents and such, and I love finding fun family games and activities for all of us to do together at Thanksgiving.
The best part is that they don't have to be Thanksgiving-themed (although there are a few here). Thanksgiving, apart from the food prep, is a relatively chill holiday where people just get to hang out with each other and be and enjoy the company. The weather's usually pretty decent so there's a lot of opportunity for outdoor time (yes, even football) and it's just a nice holiday with actual downtime. So if you've got a bunch of family and friends at your dining room table, feast (ha) your eyes upon this list of fun family activities and games perfect for Thanksgiving Day. Some can be done with kids and some can be just for the adults, but these are all pretty easy to implement and enjoy so there's no extra work for you. Cut an extra slice of pie and pick your favorite.
Family games for Thanksgiving
If your entire Thanksgiving tradition is you and your family watching the Macy's Thanksgiving Day Parade and then eating pie, then that is totally fine. But if you want to start a new tradition or get everyone chatting, these fun family games are great for Thanksgiving.
Pictionary: This is an absolute party classic, and for good reason — Pictionary is so fun and great for all ages. You can play in teams or individually, and you don't even need a board game version. You can use an online generator to come up with the words and draw away. This requires very few materials and can be done right at the table before you've even cleared away the pie dishes.
Talking Point Intergenerational Card Games: One of the best things about a big family gathering is reminiscing old stories and picking the brains of your grandparents and parents about their own memories. This sweet card game is a great way to make that happen with minimal effort. The Talking Point conversation cards — specifically the Generations pack — come with questions in different categories that you can choose to ask family members at the table, and they'll open up some really great chats.
Taco Cat Goat Cheese Pizza: Another super easy family game is Taco Cat Goat Cheese Pizza. Intended for kids as young as seven, a round of this game can take just 10 minutes and include a group of eight people, and everyone will have a blast. The game is all about making a match with a card and the word you're saying, but it gets really wild and fun very quickly. It takes almost no time to learn, too, so even older grandparents and family members will join in. (Plus it's nice and travel-sized if you're not playing in your own home.)
Play the gratitude alphabet game: You know how this goes — it's a little corny, but so sweet. You can either go around the table and have people list what they're thankful for starting with the letter A and keep going until someone runs out of A words, or you can go through the alphabet with each person sharing what they're grateful for with the next letter. Thankful for apple pie, thankful for Big Bird on TV, thankful for cousins, and so on.
Crafty family Thanksgiving activities
You don't have to be super crafty or own a glue gun or even enjoy DIY projects to make these crafty family Thanksgiving activities work for your whole fam. These are super easy, low-effort, and will bring in a whole lot of sweet togetherness.
Work on a Christmas-themed puzzle: I always think of Thanksgiving as the appetizer to Christmas. Once it's officially Thanksgiving week, you can start mixing in some Christmas things, and a Christmas puzzle is a great place to start. Find one that's around 300 to 500 pieces so you can be sure to finish it in one day. It might be fun to set it up before everyone gets there and have it in a location where people can just go work on a bit at a time if they want to.
Work on a Thankful Turkey craft: There are tons of Thanksgiving craft kits available and some of the cutest ones are where you make a thankful turkey craft. You can buy pre-made or easily make your family's own with construction paper. Let everyone say what they're thankful for and write it on the turkey feathers.
Make ornaments and exchange them: Another fun Christmas activity is to gather a bunch of supplies to make ornaments together and then exchange them so everyone goes home with their own handmade ornament from a family member. Even the little ones can get in on this craft.
Food-based family Thanksgiving activities
Thanksgiving is a feast, but you can still make some fun food-themed family Thanksgiving activities happen.
Decorate cookies: They can be any shape, you can use sprinkles or avoid them, you can go with storebought frosting — just pull out the cookies and everything you need to make them beautiful. Have a little cookie contest or decorate them and then put them out as Thanksgiving dessert and decor.
Use leftover pie crust to make tiny pastries: One of my favorite childhood memories was using the leftover pie crust from my grandmothers to make my own little pastry bites. Save up all the dough bits and let your family make something fun for the oven. Just sprinkle them with sugar for a perfect little treat.
Make turkeys out of Oreos and candy corn: This is such a fun little food-based activity to do at the start of the holiday and then you can use them for table decor after. The recipe uses everyone's favorite treats and candy, so it's a major win for the whole family.
Share your favorite recipe cards for dishes you enjoyed together: Thanksgiving obviously is all about the food, but it's so special to talk to your family about the food they brought. Have everyone that brings a dish write out enough recipe cards for each family member to get one and then everyone can exchange their favorites.
Outdoor family Thanksgiving activities
Thanksgiving often has really nice weather, so take the party outside. There are so many easy ways to connect with your loved ones in the fresh air, and everyone, from the littles to the older family members, will enjoy it.
Go on a post-dinner walk: The weather is great, everyone's full of turkey, and you want some fresh air before that second slice of pie. A little post-dinner walk is great fun for the whole family.
Go on a leaf hunt: Go outside with your family for the specific task of looking for leaves. Look for red leaves, orange leaves, big ones and small — just find everything you can and then bring them in to piece together a family Thanksgiving leaf collection.
Play a game of football: I mean, come on. It's a Thanksgiving tradition!