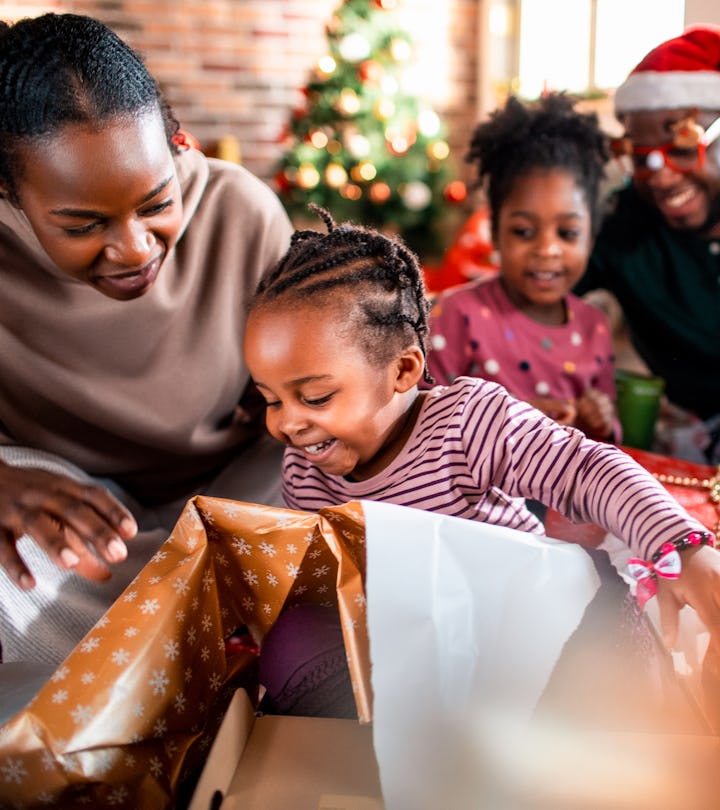 Marko Geber/DigitalVision/Getty Images
25 Gift Captions For Instagram So You Can Snap, Share & Get Back To The Fun
We've made it easy to share your gratitude.
When you are making a list and checking it twice, buying and wrapping gifts can feel like a whirlwind. But when the day comes to exchange gifts, it all becomes worth it, especially if you share a few memories on social media for loved ones to see. Top that photo of a pile of wrapped gifts off with a festive gift captions for Instagram, and you have got yourself the ultimate holiday post.
I mean, you could always pair a picture with a generic or vague caption, but where is the fun in that? Clever, cheerful, or sentimental holiday quotes will bring out the best of the season, and will give you a peaceful moment to really appreciate everything you have before the kids come in like Godzilla and destroy the beautiful, pristine pile under the tree. And no matter what's within those colorful, wrapped packages, it still deserves some love and warrants a thoughtful gift caption for Instagram, because you cannot put a price tag on thoughtfulness. Really, more about the experience of giving, and the excitement of the holiday that counts.
Whether you're on the hunt for an Instagram caption that's funny and quippy, or something more sentimental, like a literary quote about the spirit of giving — because it really does feel great to give the perfect gift at the holidays and anytime — we've got you covered with these 25 gift captions that are perfect for Christmas, or — surprise! — really any time of the year.
Share your love of giving with these perfect gift captions for Instagram.
This article was originally published on