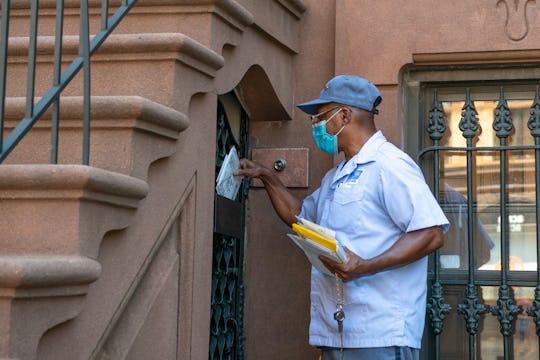 Alexi Rosenfeld/Getty Images Entertainment/Getty Images
What Your Delivery Drivers & Mail Carriers Really Want As A Thank You Gift
There are rules on what they're allowed to accept.
We may receive a portion of sales if you purchase a product through a link in this article.
Between good old-fashioned mail and all the online shopping options available, you probably see plenty of mail carriers and delivery people this time of year. The holiday season really puts delivery drivers into busy overdrive, and if you're someone who receives a lot of packages, you may be interested in gifts for mail carriers to show your appreciation.
First things first, you'll want to choose gifts that are within the legal limits of what your mail carrier can accept. That's right — because mail carriers are federal employees, there are laws about what gifts they can and can't take from you. The United States Postal Service (USPS) website says:
"Carriers may accept a gift worth $20 or less (this includes store, restaurant, or mall gift cards). However, carriers must never accept cash and cash equivalents, such as checks or gift cards that can be used like credit cards (with Visa, MasterCard, or American Express logos) for any amount."
Most other delivery people who aren't government employees, like UPS, FedEx, or Amazon drivers, should be able to accept small favors if you want to give them. Dan McMackin, a PR representative for UPS, tells Romper that their drivers certainly don't expect tips or special treats. That said, he knows they appreciate the gesture.
"Our drivers certainly are thankful for the kind gestures of food and water and cards and artwork that have been left out for them," he says. "And they certainly don't expect to receive things as gratuities. But again, anything is appreciated — cookies, water, energy bars. I think some of the children's artwork has been most appreciated. Just the knowledge that their work and their service is appreciated is enough."
"Amazon delivery drivers really do love delivering to customers and appreciate the acknowledgements, thank you signs, snack baskets, and all the various thoughtful gestures by customers to say thanks throughout the year," adds Deborah Bass, PR representative for Amazon, in an email to Romper.
Kim Frum, a senior public relations representative for the USPS, tells Romper in an interview that many mail carriers have experienced extra kindness from people over the past few years because of the pandemic. "Postal Service employees never expect tips or gratuities, so it's always a very nice surprise when customers choose to do so — many of our carriers have been recipients of kindness from their customers. No matter what time of year, customers can show their appreciation in any number of ways, as long as they stay within the guidelines."
Frum's suggestions for those who want to thank their mail person (and stay within the legal limits of what they're allowed to accept) include:
Baggies of hand sanitizer, gloves, and masks
Bottles of water
Candy bars
Drawings
Gift cards for coffee shops or restaurants that are $20 or less (No cheating and giving multiple cards of $20 each — any gift must be $20 or less total.)
Handmade items, like scarves or hats
Homemade gifts, such as cookies or a small gift basket
Letters of thanks
Want to buy a cute, on-theme thank you card to express your appreciation? These hit the mark.
We only include products that have been independently selected by Romper's editorial team. However, we may receive a portion of sales if you purchase a product through a link in this article.
What to consider when shopping for a mail carrier or delivery driver
Aside from keeping your gift under the $20 mark, what else should you keep in mind when shopping for gifts for mail carriers? Think about what's practical, appropriate, and convenient for them to use.
The climate in your area — would hand warmers or sunglasses be useful?
Their personal interests, if you're friendly with them
Their age
Stores in your area — where could they feasibly grab coffee with a gift card around your neighborhood?
Their truck setup — a small gift is easier to drive around with all day, whereas something big or delicate (like a bouquet) may be more difficult
Need some extra ideas? There are plenty of options out there your mail carrier or delivery person will appreciate.
Gifts For Mail Carriers & Delivery Drivers
No matter what you choose to gift your mail carrier or delivery driver this holiday season, they're sure to appreciate you thinking of them.
Sources interviewed:
Dan McMackin, public relations representative for UPS
Deborah Bass, public relations representative for Amazon
Kim Frum, senior public relations representative for the United States Postal Service
This article was originally published on