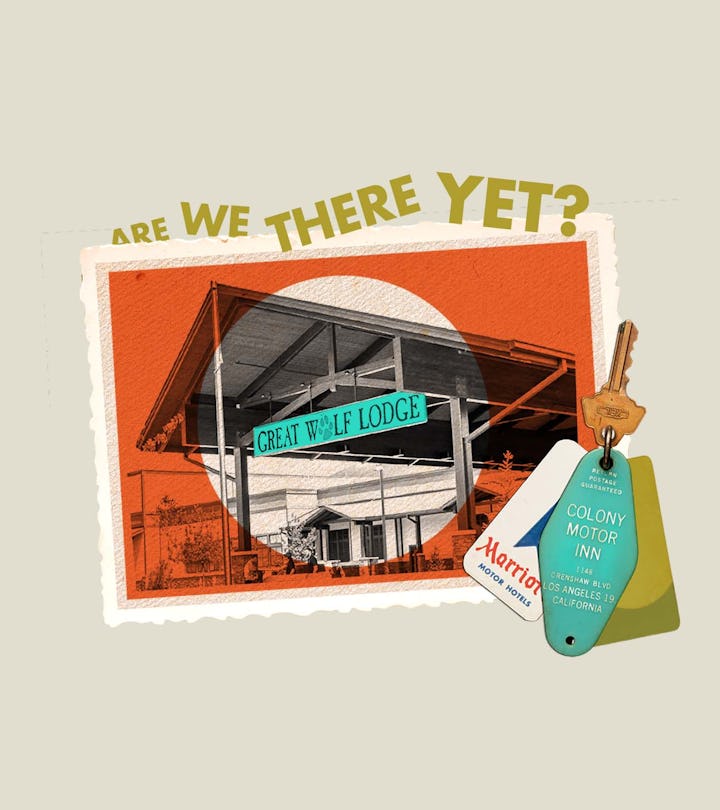 Great Wolf Lodge Is The Ideal Place For A Family Long Weekend
This resort has literally everything.
I love vacationing with my kids. I have three little girls — 8, 4, and 10 months — so it's not exactly relaxing, but it is fulfilling, fun, and, yes, rejuvenating in all the right ways. For me, it's the chance to be with my girls, to focus on them and our time together, and to say yes to everything they want, like ice cream twice in one day and staying up late. And as someone who vacationed a lot with her own family growing up, I know these memories are worth all of the hard work my husband and I put into planning a trip. To our delight, the Great Wolf Lodge made the planning easy, so we could enjoy everything else about our time together.
What Is Great Wolf Lodge?
Let's start with the basics: Great Wolf Lodge is a water park resort with 18 locations across the United States and four more coming soon. The lodges are not identical, but the general idea is the same: it's an indoor water park (some with an outdoor pool as well for the warmer months of the year) with different suites to choose from, and all of them have restaurants on-site, as well as other fun activities like arcades, a MagiQuest game, and even pajama dance parties in the lobby.
Booking a suite at the Great Wolf Lodge guarantees your water park tickets, but there are lots of other things to consider when staying there, including a dining plan and three different levels of Wolf Passes so you and your family can enjoy activities beyond the water park. (Dance parties in the lobby are free though, you're welcome.) All of it is attainable with the wrist band you and every member of your party will wear. It's your room key, your dining plan pass, your water park pass, and can also be how you charge items to your room if needed.
What Is The Best Age For Great Wolf Lodge?
Depending on which location you're in, the water park amenities — like slides and lazy rivers — may differ, but they are all designed to offer something for every age.
There were little slides, big slides, and a giant bucket that dumped water over everyone every few minutes. One of the biggest hits was the wave pool, which dipped down from inches of water to five feet of water. My girls spent a lot of time in there jumping waves, swimming, and letting the baby splash in the shallow end. For older kids, there were some some big slides that you could tube down (our girls weren't ready for those). All of the water park areas also included chairs (first come, first serve, so not always easy to snag) for parents to sit and watch their kids, but every area is also made accessible for parents to join in on the fun.
Water parks usually overwhelm me, but the Great Wolf Lodge water park is just the right size. It's not so massive that you spend all day running around, but it's also not so small that kids are bored an hour into it. We were there for four hours before we had lunch, and we had to beg our kids to please just come sit down and eat some chicken and then you can go splash again. The bathrooms are also nice and clean, and we all quickly became familiar with the layout, so the kids could have a little more freedom.
I also felt very safe. Life jackets are provided at the park, so we could just grab one off the rack for our 4-year-old whenever she needed one. There are also lifeguards stationed everywhere.
Will You Share A Room With Your Kids?
The Great Wolf Lodge offers several different suites, including premium suites with separate bedrooms that can sleep up to eight people. Our family of five stayed in one of the themed Wolf Den Suites, which included a pull-out sofa, a queen bed, and then a little built-in cave nook with bunk beds and a twin bed for our girls. The little cave area was just the right size for our two older girls to have their own space, and it even had their own TV so they could relax with a movie while my husband and I sat in our area of the room.
Will I Need To Bring A Pac 'N Play?
We had our baby in a travel sleeper, which Great Wolf Lodge provided for us when we reserved the room. It was in the room when we got there, and we just had to set it up. They even provided crib sheets.
Every room at Great Wolf Lodge also comes with a mini fridge, an absolute necessity for storing snacks, bottles, breast milk, drinks, etc. Some of the suites also come with a microwave,
Which Great Wolf Lodge Wolf Pass Should We Get?
In addition to the water park (which, again, is included when you book your stay), Great Wolf Lodge offers three levels of attraction passes.
Our three girls each had the Paw Pass, which included an arcade play card, a scoop of ice cream at Ben & Jerry's, a wand to participate in the lodge's MagiQuest game (which is a quest throughout the entire park that includes waving your wand at magic spots to earn points and complete missions), a small candy cup to fill at the Great Wolf Lodge Candy Company, and a pair of swim goggles. This particular pass is $69.95.
The Pup Pass is slightly cheaper at $59.99; it includes all of the above attractions, except the MagiQuest wand and game is replaced with a Build-A-Bear animal for your kids to stuff in the Build-A-Bear on site at Great Wolf Lodge. I think my own girls would've preferred a Build-A-Bear to the MagiQuest game and wand. They enjoyed waving the wand around, but the game was a little hard to follow, so it was mostly them just making trunks open and things light up throughout the resort.
Are There Hidden Expenses?
There are other fun things to do throughout the resort, and the passes really help take off the expense of those and make it easy to do them. The arcade was one of our girls' favorite spots, but we did have to spend extra money there to get more credits, since the pass only came with a few.
How Many Nights Is Enough At Great Wolf Lodge?
A weekend or long weekend is the perfect amount of time, though if you wanted to stay longer, you would not run out of things to do. Depending on your location, Great Wolf Lodge resorts have bowling, rock-climbing, a ropes course, Build-A-Bear, and so much more.
TL;DR
In short? This was a magical weekend for our family. I love that everything is right there, including food, coffee shops, and gift shops stocked with necessities like diapers, tampons, and water shoes. I loved all of the splashing and playing with my girls, especially watching my two oldest play with each other so solidly the entire weekend. Not having to worry about meals or groceries, not having to worry about planning out our day — all of it made for a dream weekend. We'd just wake up, throw on swimsuits, and we were out the door.
I highly, highly recommend Great Wolf Lodge for a family weekend. My 8-year-old says she wants to go for her birthday, and I think we're going to have to make it happen again. Great Wolf Lodge's motto is to "run with the pack," and we definitely did that. It was the perfect way to unwind with all three of our girls and enjoy this specific time of their childhood.