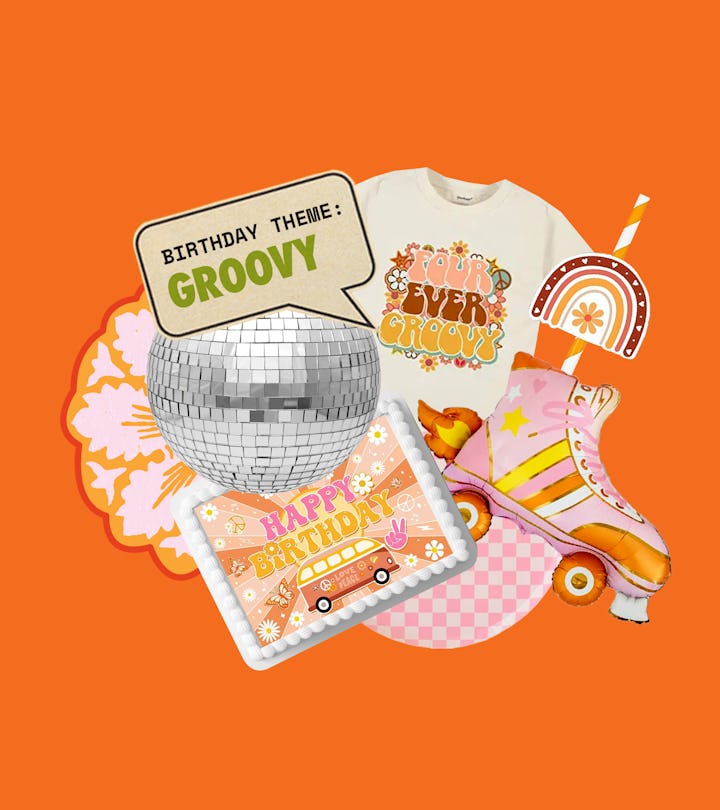 How To Throw A Groovy Birthday Party
You're going to want to lean into the orange and flowers here.
If you were a child of the '90s, you probably had a moment somewhere in your tween and teen years when you were really into the peace sign, disco balls, and inflatable furniture covered in bright flowers. Nostalgia for the '60s and '70s had a heyday in the '90s, and now the vibes are back again for birthday parties. A "groovy" birthday party is a ridiculously fun (and pretty easy) theme to throw together, whether you're hosting it at home or taking a bunch of cool cats out on a funky outing (roller skating rink, anyone?).
For starters, you can work with a million puns if you want your child's age to factor into the theme:
One Groovy Babe
Two Groovy
Young, Groovy, & Three
Four-Ever Groovy
Five Is a Vibe...
All the way up to my personal favorite: Peace Out, Single Digits. I'm 10!
Now think flowers, mini VW buses, lots of rainbows, and of course, an absolutely epic playlist. The "big" activity for the kids can just be a dance party (easy peasy!).
Groovy Birthday Party Invitations
The color palette and goofy puns are key here.
Groovy Birthday Party Decorations
OK, now it's time to really have some fun: '70s-themed confetti and disco balls make for great table centerpieces, but if you're working with even just one area to decorate, a garland and some balloons (in the shape of a roller skate, of course) can really groovy up the place. Smiley faces, flowers, and different shades of orange, pink, and brown pull a cohesive theme together.
Groovy Birthday Party Favors & Crafts
Favors are never required, but a groovy birthday party favor can also be a party craft and just a fun addition to the funky vibes. Everyone can rock a pair of flower-power sunglasses as they dance and play, tiny little groovy straws can be used during the party, and you can set up a temporary tattoo station so everyone really feels the energy, man. Vintage cookie cutters make amazing favors — you can also bake a bunch of retro-shaped sugar cookies and let kids decorate them during the party. Funkiest cookie wins! You want it looking like Carol Brady's kitchen in there.
Groovy Birthday Party Treats & Desserts
When it comes to party food, it doesn't get much easier than a nugget tray or pizza with everybody's favorite snacks in a bowl. (Even Cheetos look fancy in a cute dish or in tiny, groovy-themed cups.) But if you want to keep the groovy vibes going into the dessert tray, there are so many options. Reach out to your local bakery for custom retro cakes, and/or you can find everything from groovy sugar cookies to cake pops online to purchase. You can even try making your own peace sign cake with a silicone pan.
Groovy Birthday Party Outfits & Shirts
This is the ultimate party theme to dress up for! These fun groovy birthday party outfits and shirts are fine options for your funky little flower child.
Whether you go for a groovy theme because your kid fancies herself a Marcia Brady or you just love the idea of One Cool Dude, there are so many fun things to make your party totally far out.