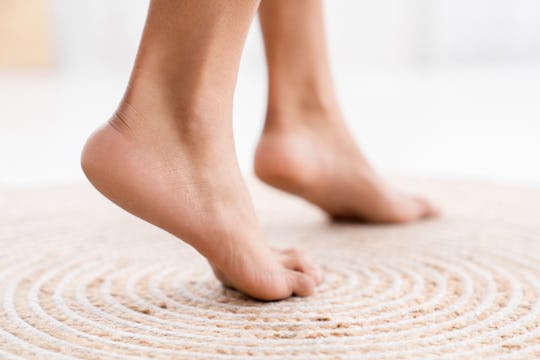 Shutterstock
6 Surprising Things The Hair On Your Toes Can Tell You About Your Health
You've probably noticed that hair can grow on your body and face in places where you might least expect (or want) it. Some hair has a specific and obvious purpose — like eyebrows and eyelashes, which keep dirt, dust, pollutants, and sweat from getting in your eyes — but other body hair is a little more perplexing. Take, for instance, the hair on your toes. While you might not think it has any real function (besides getting in the way of a great pedicure sometimes), your toe hair growth and thickness can reveal surprising clues about your health.
It's just one of many ways that certain features on your body, like body hair or the arches of your feet, can provide subtle indications about other underlying health concerns. While it's important not to self-diagnose before talking to a professional, it could be worth investigating if you notice major changes in the hair growth on your toes. "When you've had good hair growth on your feet before and it starts going away or is gone, I think that's a concerning factor," Patrick McEneaney, doctor of podiatric medicine (DPM), owner and CEO of Northern Illinois Foot & Ankle Specialists, tells Romper. When it comes to toe hair and your health, here are some of the factors that might be at play.
If you're worried about the hair on your toes (or lack thereof) or are embarrassed by it, talking to your doctor can make you feel better about things. Chances are, your hair is just a normal part of having a body, but it's worth paying close attention if you notice any major changes. Who knew the hair on your toes could be so revealing?
Studies referenced:
Guo, E. L., & Katta, R. (2017). Diet and hair loss: Effects of nutrient deficiency and supplement use. Dermatology Practical & Conceptual, 1–10. https://doi.org/10.5826/dpc.0701a01
Experts:
Patrick McEneaney, doctor of podiatric medicine (DPM), owner and CEO of Northern Illinois Foot & Ankle Specialists
Dr. Erum N. Ilyas, M.D., board-certified dermatologist at Schweiger Dermatology
This article was originally published on