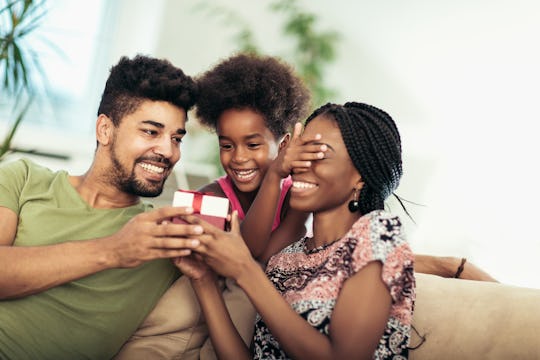 Shutterstock
17 Clever (& Harmless) April Fools' Day Pranks To Play On Your Wife
Just prepare for retaliation.
April Fools' Day will be here before you know it, and it's never too early to start planning, right? Pranks and practical jokes can run the gamut from simple to elaborate, and from cute to downright malicious. But since you'll want to make sure you've got just the right balance of fun and tricky for your love, here's a list of fun April Fools' Day pranks you can play on your wife — that won't make her too angry.
The origin of April Fools' Day is something of a mystery — no one is quite sure where it comes from. The most popular theory, according to Snopes, has to do with the introduction of the modern calendar in the 1500s. Before that, the new year had begun on March 25, and had been celebrated on April 1. The new calendar moved New Year's Day to Jan. 1. But some people missed the memo, and still thought that April 1 was New Year's, thus earning themselves the nickname "April fools." Apparently French peasants got in the habit of stopping at their neighbors' homes on April 1 to try and trick them into thinking it was New Year's Day, and from that custom comes our modern penchant for pranking family and friends.
But whatever the reason for the tradition, it's a fun one to keep up. So take some inspiration from these April Fools' pranks you can play on your spouse and not get in too much trouble for.
This article was originally published on