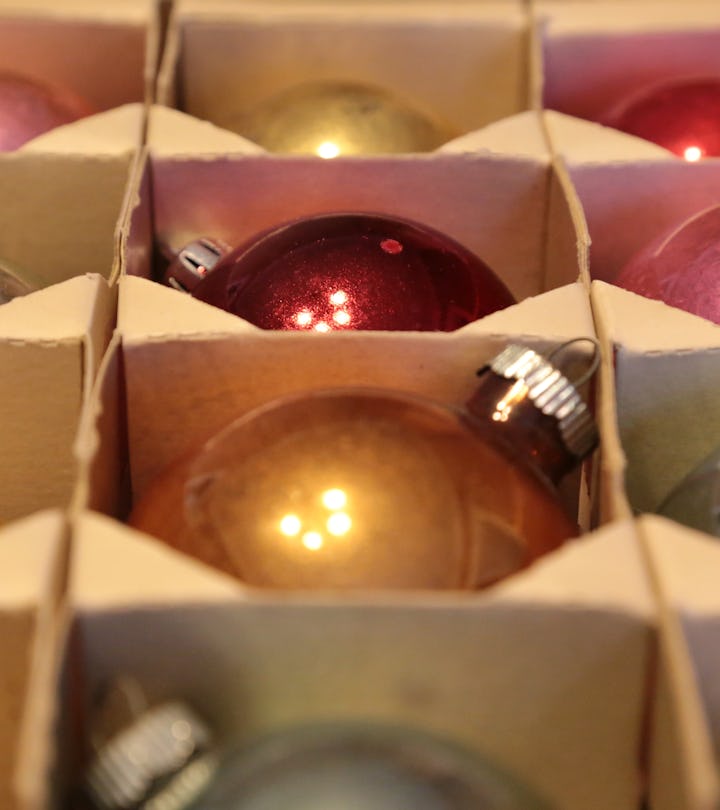 Douglas Sacha/Moment/Getty Images
Clever Holiday Decor Storage Hacks From Moms & Organization Experts
Alternate title: How To Keep Your Holiday Decor From Taking Over Your House.
For me, I love having our holiday decor out to enjoy by the day after Thanksgiving. But as soon as Jan. 1 rolls around, I need it out, and I need it out quickly. I'm ready to donate my tree to the local animal sanctuary, and I'm ready to declutter, clean, and cleanse for the new year. I need all of our beautiful holiday decor picked up and put away, ready for next Christmas. Because of this, living in a 1,200 square foot house means I'm always on the lookout for holiday decor storage ideas that are clever and good for small spaces. Our "basement" is really a crawlspace with half dirt and half concrete on either side, so there aren't a lot of options for storage down there.
Thankfully, this list of holiday decoration storage ideas will work for all types of homes, whether you have 3,000 square feet or 1,200, and these ideas come from everyone from expert organizers to parents who just know. There's a solution for everyone in this list, and as you're pulling out your decor next holiday season, you'll be happy to find no broken ornaments, a tree that isn't flattened, wrapping paper that's still usable, and Christmas lights that aren't broken and/or so tangled it takes until next Christmas to unravel all of them.
We only include products that have been independently selected by Romper's editorial team. However, we may receive a portion of sales if you purchase a product through a link in this article.