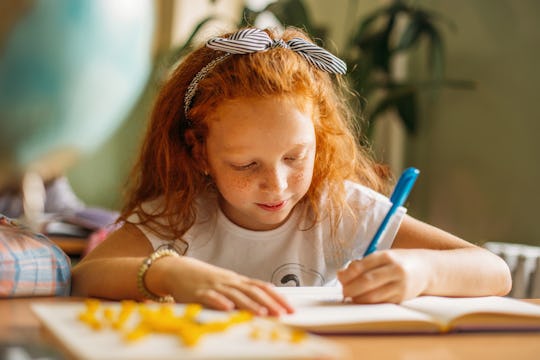 Studio Firma, Stocksy
Here's How Much 15 Parents Have Spent On Distance Learning Supplies This Year
No. 2 pencils? Check. Glue sticks? Check. There's nothing like getting that school supply shopping list to get you excited for that most wonderful time of the year — when kids go back to school. And while backpacks and fancy pens can be pricey, nothing can really prepare you for the amount of money you might have to shell out if you decide that your kids will be distance learners. So we found out how much 15 parents have spent on distance learning costs this year — and, in some cases, be prepared for sticker shock.
It's not until you have to recreate a classroom at home do you actually realize how costly it can be. You don't want your child to be Zooming from their bed, so they're going to need a proper desk. And then the dining room chair isn't the right height, so you're going to have to fork over some big bucks for that, too. Plus, there are the reams and reams of printer paper you're going to need because, (womp womp), no more free copies. Add to that the ink you'll need to spend, plus all the other traditional school supplies you have to buy, and well, it might feel like a small fortune.
Oh, and you might have to pay for a big-ticket item like a computer, laptop, or iPad if your school doesn't supply you with one. Sigh.
So get ready to break out the credit card, as these parents talk about how much virtual school supplies cost, in real dollars and cents.