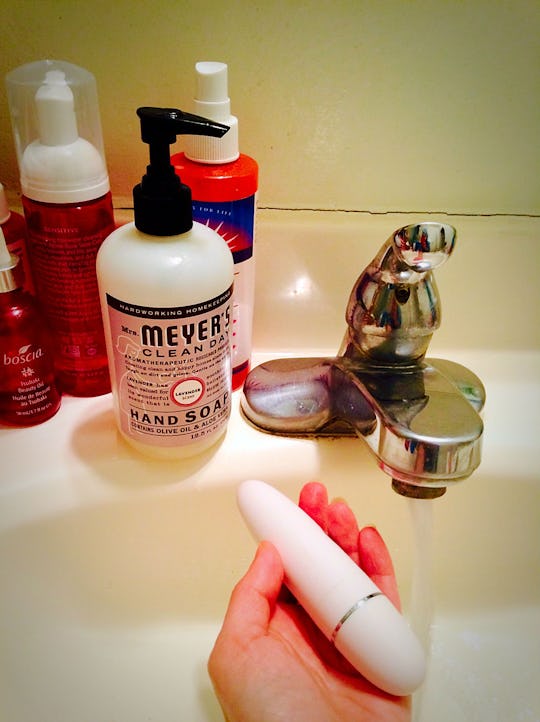 Courtesy of Jill Di Donato
How To Clean Sex Toys — 4 Tips To Keep Your Adult Drawer Hygienic
Here's how to keep your goodie drawer disinfected.
There are some things that you don't really need to clean after each use: you can turn your underwear inside out if things get dire, for example (not that I've ever done that or anything… ) and you can use the same towel for a few showers. But one thing that really should be cleaned every time you use it? Any and all kinds of sex toys.
Maybe you got some new goodies for the holidays, or maybe you're hoping to experiment with self-pleasure more in the new year, but regardless of the reason, you're going to need to know how to clean sex toys. If toys are not regularly cleaned, it can lead to a build-up of bacteria which can potentially cause UTIs, yeast infections, and other issues that will be itchy and annoying at best. It's especially important to make sure your toys are squeaky clean if you're sharing them with another person or if you switched between anal and vaginal penetration.
Here, Romper spoke with Marla Renee Stewart, MA, sexologist and "sexpert" for Lovers sexual wellness brand and retailer about the best ways to clean sex toys.
Sex toys can be great, but like anything else, they need to be cared for and used properly. With the right cleaning tips, your toys will last for a long time, too. Now you're ready to have some good, clean fun.
This article was originally published on