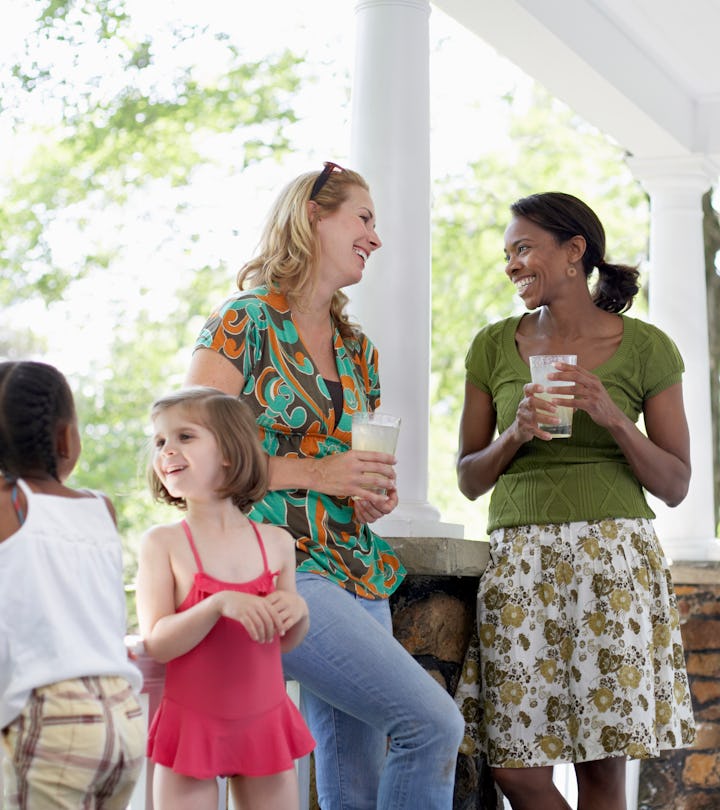 Sean Justice/DigitalVision/Getty Images
Quit Hiding Behind Your Curtains & Go Say Hi To Your New Neighbor
These tips go above and beyond just saying "hi" — but that certainly works, too.
As an introvert, I don't always enjoy meeting new people. It can be awkward and I never know what to say. But, there are some instances where meeting new people is necessary, like when you move into a new house. Tips for how to meet your new neighbors are invaluable for people like me, and really just anyone who wants to connect but isn't met with a welcome wagon on move-in day.
Whether you got a new job and had to relocate, moved closer to (or away from) family, or just wanted a change of scenery, adjusting to living in a new place can be hard. Honestly, even if you just moved to a new neighborhood within the same general area, meeting your new neighbors can be a challenge — especially during COVID times. Do you knock on doors until someone answers and hope they see your smile from behind a mask? Introduce yourself from a distance over a shared fence and shout that you're vaccinated and want to be friends?
These tips also work well for people who notice new neighbors moving in and want to introduce themselves. Your new neighbor may wind up being your new BFF, or they may not. But, you'll never know if you don't meet them. It may not be an instant connection, but a simple introduction could be the beginning of invitations to block parties and playdates. (As soon as those start happening again.)