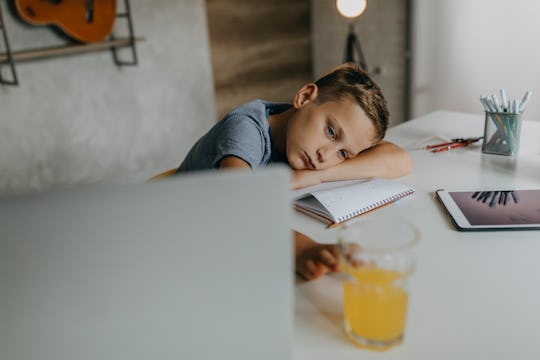 SuperSizer, Getty Images
Here's How To Navigate The World Of Virtual Bullying, According To Experts
If you thought bullying was something that only happened to kids in schools or on the playgrounds, think again. Cyberbullying is just as insidious as in-person harassment, and can happen just as frequently, especially when kids are glued to their digital devices. So if you're finding that your kids are online more lately, you'll need to know how to navigate virtual bullying, both to empower them and keep them safe.
"Bullying was once something that occurred in isolated situations on the playground, after school or during school hours," Dr. Beatrice Tauber Prior, Psy.D., a clinical psychologist in Cornelius, NC tells Romper in an email. "Now given the advances in technology, bullying can occur at any time, at any place and can go on for years without ceasing due to the ever-present virtual world we live in." The worst part is that it might not always be apparent that your child is the victim of online bullying.
An estimated 1 in 5 kids in the U.S. has been bullied, Do Something reported. Additionally, 160,000 teens have skipped school as a result of being bullied. Suicide was the tenth leading cause of death overall in the U.S. in 2018, according to the Centers for Disease Control and Prevention (CDC), with over 48,000 fatalities; it was the second leading cause of death for people between the ages of 10 and 34.
Here's how to spot signs of bullying, how to help your child, and most importantly, what your child's rights are.