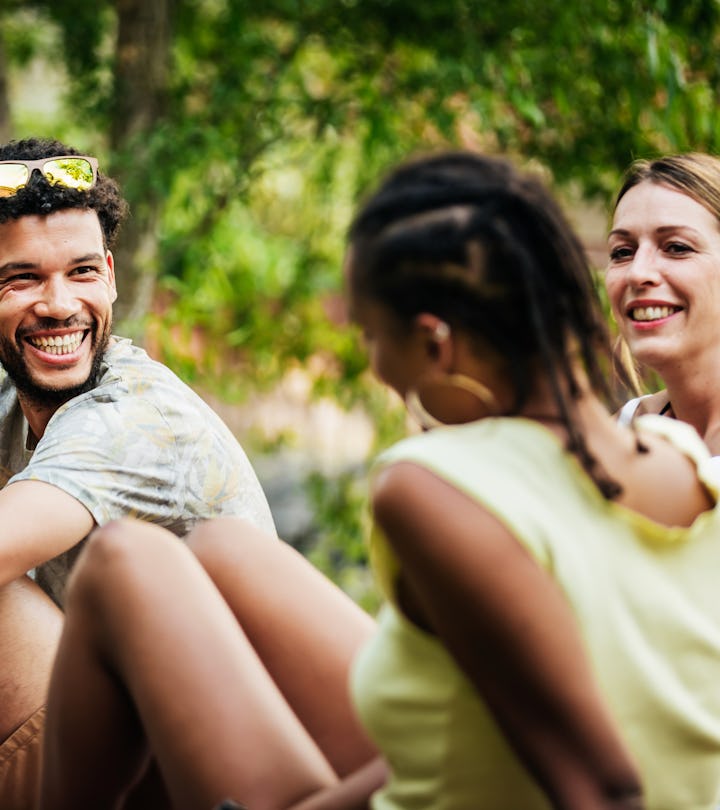 Tom Werner/DigitalVision/Getty Images
7 Ways To Respond If Your Partner Flirts In Front Of You
It's frustrating, but you can handle it.
When you're in a relationship, there are many social situations and sets of circumstances that you'll have to navigate. From how to incorporate each family and group of friends into your relationship, to how to handle late nights at the office, where to live, and more, there are compromises, conversations, and boundaries that will all have to factor into your relationship. But what about when your partner does something outside of the boundaries the two of you have previously agreed upon? There are some mature, but effective ways to respond if your partner, husband or boyfriend flirts in front of you that, in case the situation ever arises, might be handy to have in your relationship "toolbox."
It's important to remember that every relationship is different. For some couples, it's completely fine with both partners if one or the other of them flirts with other people, even if they do so in front of each other, as long as it doesn't go any further. For other couples, even if things go further, it's still OK. And for still other couples, flirting with someone else is a serious no-no. So knowing how you both feel about flirting and what you're OK with and what you're not can help you determine if a line has truly been crossed. If you decide that there is something wrong and flirting isn't OK, there are ways that you can handle it maturely so that you can both move forward and have a real conversation about the situation.
Also, open-ended questions and discussion topics can ensure that your partner is involved in the conversation too and not getting off easy with simple yes or no responses. Honesty, above all, will help you address the issue and figure out how to move on — whether together or apart.
Experts:
Stephanie Churma, a relationship coach
Rhonda Milrad, LCSW, the founder of Relationup, an ABS-certified clinical sexologist
Rachel Gersten, a therapist
Dr. Rebekah Montgomery, a clinical psychologist and relationship expert
Dr. Joseph Cilona, a licensed clinical psychologist
This article was originally published on