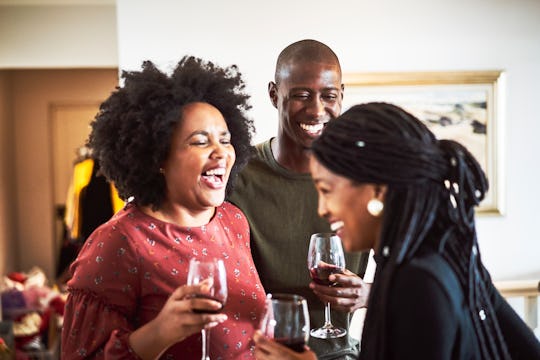 Stígur Már Karlsson /Heimsmyndir/E+/Getty Images
If You're Celebrating Friendsgiving This Year, These Quotes Perfectly Capture The Vibe
And don't forget to tell your BFF her English trifle with beef and peas was great.
This year, Friendsgiving may be more popular than ever. Due to COVID-19, travel will be tricky. Or maybe you don't want to deal with cousin Todd's thoughts on the election. Yes, a gathering with your pandemic pod may be preferable. In which case, if you're in need of a sweet sentiment to accompany an invitation, or to use as place holders, these inspirational Friendsgiving quotes will work a treat.
Family gatherings can be complicated and exhausting for many of us, and this year — what with the current political climate and stress surrounding pandemic safety — the potential for conflict is, shall we say, high. A Friendsgiving can offer people a more relaxed experience that allows the real gratitude of the season to shine through.
I love my family, but one of my most memorable, favorite Thanksgivings ever was one I hosted with friends when I was living abroad. It was with a circle of non-Americans who had no clue what the holiday actually involved, and we stayed up until 3 a.m. drinking wine and arguing over which country has the best national anthem. Something I can promise you I have never done with my Uncle Howard or Aunt Phyllis.
So with that in mind, here are some awesome Friendsgiving quotes to get you into the holiday spirit.
This article was originally published on