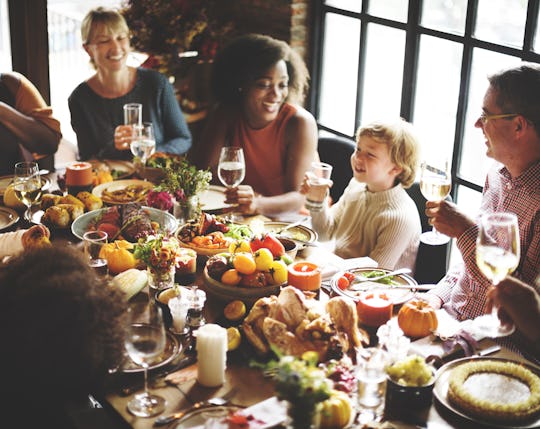 Rawpixel.com/Shutterstock
15 Icebreakers For Thanksgiving Dinner
Because your family, whether over Zoom or in-person, is *awkward.* (And nobody wants to talk about the election recounts.)
Kids, it's creeping closer. Thanksgiving 2020. And while some of us may be fretting about building plexiglass partitions around which to safely pass pie, there are others who are more concerned with how to get through the meal without a full-on family fight club. To help assist with some even-tempered, pleasant chit chat, I have 15 fun icebreaker ideas for Thanksgiving dinner.
Considering that the outcome of the election will likely only be decided right around Thanksgiving, well, the iciness at some family tables may feel big enough to topple another Titanic. But fear not! I swear these silly, structured activities can help to take some of the pressure off and steer you into safe waters. (On that note, if your dinners tend to run long, it might be a good idea to stock up on some goofy board games, too?)
Sadly, with the steep rise in Covid numbers around the country, many of us may be doing Thanksgiving via Zoom this year. In which case, should Uncle Jerry's thoughts on QAnon prove too much to take, one could always do the 'ol: "Oh no, Uncle Jer! My Wifi is blerf wjnbg wjbhgb…." and then quietly close the computer.
We only include products that have been independently selected by Romper's editorial team. However, we may receive a portion of sales if you purchase a product through a link in this article.