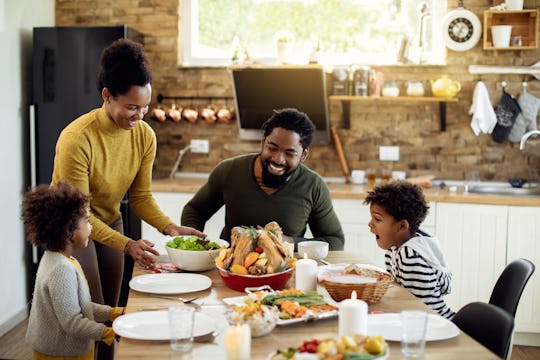 Shutterstock
How To Explain The True History Of Thanksgiving To Your Kids
Because it's not as simple as history books make it seem.
I was a few feet away from my daughter when she stood up in her kindergarten class to give her Thanksgiving speech. She had the traditionally crafted paper headband with colored feathers and her name written on the inside. I smiled with pride at her confidence and articulation while she spoke, but part of me held a breath wondering, When will I tell her the truth?
Thanksgiving is one of the biggest smoke screened holidays next to Christopher Columbus Day, where the truth gets twisted until it's broken and transformed into an easy to digest version of what really happened between pilgrims and Native Americans. It wasn't rainbows and sunshine.
The holiday has become a gathering with loved ones over an amazing meal, while expressing gratitude for all that you have. Which is a great time of reflection and appreciation. But at some point we have to stop glossing over the true cultural roots of the day.
Revealing the un-doctored history of Thanksgiving involves shedding some commercialized hooplah, and even some of what is taught in schools. In order to keep the spirit of the holiday alive without furthering the lies, here are a few tips on explaining the real history of Thanksgiving to your kids.
This article was originally published on