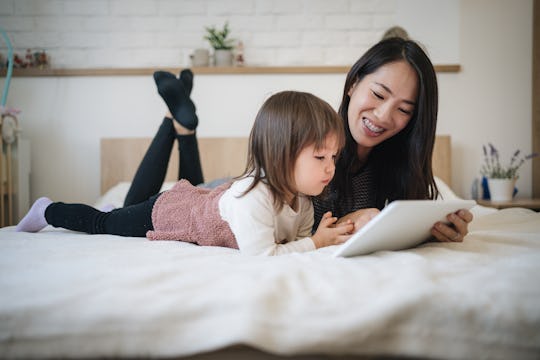 archigram/E+/Getty Images
Here Are 20 iPad Games You Can Let Your 3-Year-Old Play Guilt-Free
Because sometimes you need a break.
Need a second to finish making lunch? Or just one moment to complete a sentence without being interrupted by your energetic 3-year-old looking to you for round-the-clock lockdown entertainment? Don't fret about reaching for the screen. There are great app options for even the most precocious toddlers. In fact, the best iPad games for your 3-year-old will keep them busy and teach them a thing or two, and they probably won't even notice the second part happening.
Being stuck inside isn't so awful when the internet is full of the best apps for 3-year-olds: amazing, interactive learning tools for kids who are missing out on their preschool lessons. ABC Mouse, for example, encourages children to complete puzzles, songs, and games to earn points (with over 2,000 activities to choose from), all the while working towards their next milestone. Bingo ABC introduces phonics through songs and sing-a-longs (you can even record your song with the Karaoke session in between playing games with farm animals and making up stories). Tally Tots uses 20 different games to get your kid comfortable with the concept of counting. Just like a spoonful of sugar helps the medicine go down, these iPad games for 3-year-olds hide important lessons under the guise of fun. As a bonus, they provide parents with a much needed break. (Plus, most of them are either free or super affordable.)
We only include products that have been independently selected by Romper's editorial team. However, we may receive a portion of sales if you purchase a product through a link in this article.
This article was originally published on