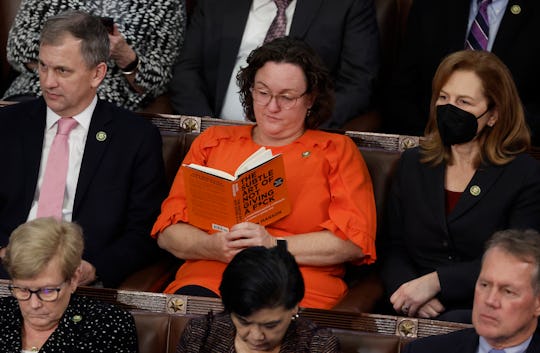 Anna Moneymaker/Getty Images News/Getty Images
Katie Porter Confirms She Was "Absolutely Reading That Book" During House Speaker Drama
The congresswoman and self-described "minivan-driving single mom" has that no-nonsense energy on lock.
The House of Representatives just sat through one heck of a week waiting for Republican California Rep. Kevin McCarthy to finally be elected Speaker of the House. The entire House had to endure 15 rounds of arduous voting as hardline conservatives fought to block the vote. Leaving Democrats like California Rep. Katie Porter trying to find ways to occupy their time as Republicans were duking it out. And no big surprise, the mother of three found a way to not only fill her time, but send a pointed message of her own that went viral for good reason. Porter confirmed that she was "absolutely reading" the 2016 book The Subtle Art Of Not Giving A F*ck, because she has that no-nonsense mom energy on lock.
In an interview after Rep. McCarthy was finally named Speaker of the House, Porter told MSNBC's Lawrence O'Donnell from The Last Word Tonight that yes, she had been reading Mark Manson's 2016 bestseller The Subtle Art Of Not Giving A F*ck after a photo of her thumbing through the book went viral.
"I was absolutely reading that book," she said. "That book I picked up at a little free library on my walk from my basement studio here in Washington to the Capitol." And apparently it was one of four she read "during those interminable, alphabetical votes, in which the Republicans struggled to find leadership."
Manson proudly tweeted a photo of Porter reading the book with the caption, "We made it into Congress fam."
Just in case Republicans didn't take Porter's subtle hint with her book choice, the Congresswoman tweeted her displeasure about the proceedings after McCarthy's win. "The 15th time's the charm, apparently," she wrote. "Americans deserve more than House Republicans' inability to govern — and better than their proposed rule changes. Their agreement to weaken watchdogs, empower extremists, and tip the scales toward special interests betrays the American people."
Porter has been making headlines for her straightforward, no b.s. attitude as a representative and a mother for some time. Like when she was sick with Covid-19 and parented her children using her famous whiteboard, for instance. Or hid fellow Rep. Alexandria Ocasio-Cortez during the Jan. 6 Capitol attack under her desk and soothed her by reminding her that she was a mom.
In short, Congresswoman Porter gives plenty of f*cks. She just doesn't have time for nonsense.