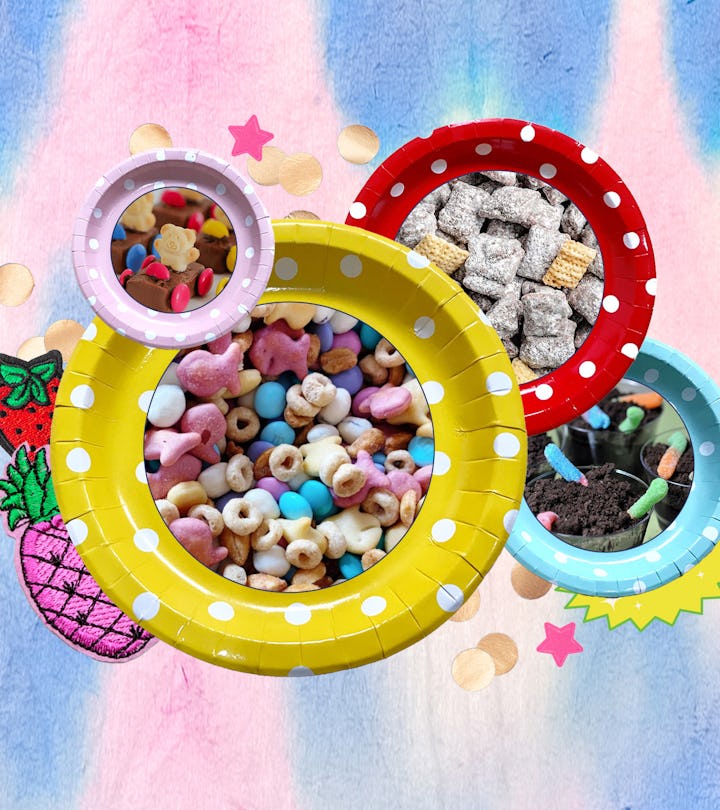 What To Serve At A Kid's Birthday Party
It can be simple and still special.
Food is usually the centerpiece of an adult party, but somehow at kids' parties, it can feel like an afterthought. Maybe that's because you've already planned out the party's theme, decorations, cake, and party favors. You've been busy.
Don't despair: All you need are some substantial kid-friendly options to offset all the juice and treats, plus a smattering of tasty fare for more sophisticated palates. The most practical way to think about the spread at a birthday party is as one epic snack fest — plus cake.
Consider these first when planning the birthday party menu:
Party theme and whether the food will play off said theme.
Number of guests, their ages, and dietary restrictions.
How much prep and cooking you are up for and what can be outsourced.
Budget.
Space (This might dictate if you have enough surface area for 15 options, or five.)
Have safe options for picky eaters:
This is not the moment for expanding young palettes or fretting about your food choices as a parent. Just make sure you have options for picky eaters; everything else will feel like extra credit.
Plain chips, pretzels, or carrot sticks (basic for a reason).
Chicken tenders.
Cheese pizza.
Hot dogs or pigs in a blanket.
Uncomplicated mac and cheese.
Burgers or sliders.
Once you've squared away one or two "safe" foods, consider the following savory and sweet options that will fit on a cocktail plate and aren't too messy to eat.
Savory birthday party snacks
For older kids and adults, consider these foods that can easily get plopped onto a plate and consumed with one hand: rainbow-hued pizza, "snakewich," chicken skewers, cheeseburger in casserole form, chicken nugget sliders, and cauliflower pizza bites. They're all standard appetizers with a twist. You don't want to make the menu so adventurous you end up with more leftovers than you can eat.
Salads and fresher fare
Balance is key — fresh produce and salads will help offset some of the heavier options. If you're all about the presentation, creating a crudités train with halved bell peppers and cucumbers will make quite the impression. What is it about single-serving snacks, like caprese salad on skewers or a yogurt and berry parfait in a cup, that is so irresistible? Taco salad or pasta salad are low-lift, no-fuss crowd-pleasers that are a little heartier and don't have to be served warm.
Build-it-yourself boards
Yes, anything can be charcuterie if you really believe. You can make fun of us later, but it's an easy, photogenic way to present a meal. Pick a theme and lay out all the fixings on an oversized board or on the table itself — just line it with a clean tablecloth or butcher paper first — and let guests have at it. Bonus points: It's a conversation starter for parents forced to socialize with each other just because their kids are in the same second-grade class.
Breakfast board: Waffles or pancakes are good, crowd-pleasing bases. Add bacon, mini hashbrowns, some fruit, and yogurt cups.
Baked potato board: Keep extra potatoes warm in the oven if they don't all fit on the board.
Taco board: You can include soft and hard shells as well as tortilla chips as bases.
Bagel board: Make sure you pre-slice the bagels to make it easier for guests.
Slider board: These mini burgers will allow you to fit more stuff on the board.
Candy board: There, we said it.
Bonus sweets
No, we're not talking about the cake or cupcake tower. Trust us: That should be held back for photo ops and the "Happy Birthday" song. But it's a party, so don't be stingy with the treats. Setting out a couple of options from the grocery store bakery is just fine, but here are some cute birthday party dessert ideas to add to the mix if you feel like making something yourself.
A rainbow sprinkle cheesecake is a festive spongey-cake alternative.
S'mores bars are surprisingly easy to pull off.
Set out a large dish of trail mix or "puppy chow" (for you puppy-party people) that guests can serve themselves.
If want to show off your DIY skills, teddy bear racing cars will garner you extra presentation points.
A tray of dirt cups and layered mixed berry dessert cups will be a hit with chocolate and vanilla fans.
And every party needs a dip — why not make it a Funfetti one?
Drinks
Tossing an assortment of juice boxes, cans, and bottles in a cooler or large bowl next to the food table is the most convenient thing you can do beverage-wise. Plus this way you have plenty of options for everyone at the party. Just don't forget to include water bottles as well.
However, if you have a punch bowl and a dream, don't let us stop you. And if you don't have a signature punch recipe already, try these fruity, refreshing, nonalcoholic recipes that are the perfect balance of tangy and sweet.
Another drink-related idea is to take all the juice boxes and give them each a facelift using some construction paper, glue, and googly eyes. Sharks are cute for an underwater-themed party or minions if your kid is a huge Despicable Me fan. If crafts are not your forte, Etsy seller PinkPartyShop has tons of options you can print out onto adhesive paper and stick on different juice boxes.
Whatever you decide to do, don't overcomplicate the birthday party menu or plan to do something that requires an all-nighter before the party. As long as people have some snacks to munch on throughout the event — and you have options for little picky eaters — you're golden. When in doubt, put the chips in a fancy bowl and you're already ahead of the game.