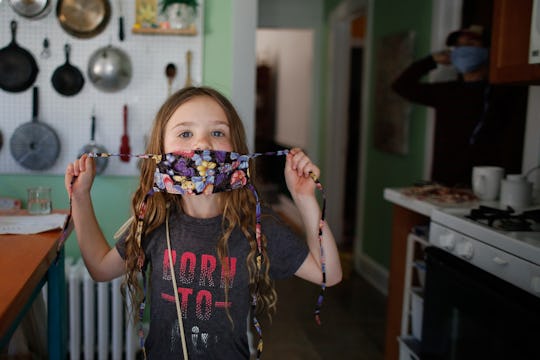 Cavan Images/Cavan/Getty Images
17 Behind-The-Head Face Masks For Kids Who Can't Stand Ear Loops
Because some ears are more sensitive than others.
Masks are a part of our new normal. Whether your child is going to be wearing one for hours at a time while they're in school or just an hour or two while you run errands, you want to make sure they're as comfortable as possible. Even though ear loops can help keep your child's face covering from sliding, they can also be itchy and irritating. That's why behind-the-head face masks for kids can be a game changer.
"Face coverings are intended to provide secure control," Dr. Syra Madad, an infectious disease expert and star of the Netflix series Pandemic: How To Prevent An Oubreak, tells Romper in a phone interview. But that doesn't mean you're stuck with one style.
"As long as the face coverings covers the mouth and nose and is snug fit, wearing a behind-the-face mask or ear loops are both good options," Dr. Madad says.
That said, masks that go behind the head mean that your child has to know how to tie the laces. If you have a little one who still hasn't mastered making bunny ears yet, you can always tie the mask for them before sending them off to school (but it might not be a bad idea to practice the skill with them so they can re-tie the mask on their own). That way, your child can wear any one of these 17 behind-the-head masks in comfort and safety.
We only include products that have been independently selected by Romper's editorial team. However, we may receive a portion of sales if you purchase a product through a link in this article.
This article was originally published on