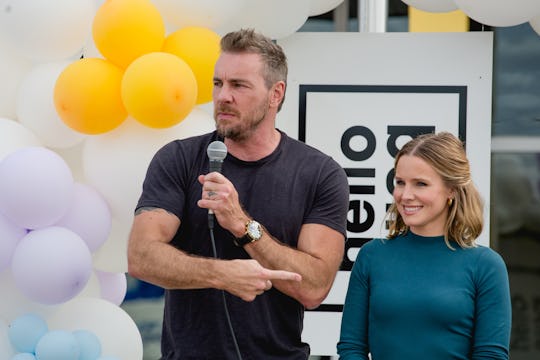 Rick Kern/Getty Images Entertainment/Getty Images
Kristen Bell & Dax Shepard's Diaper Company Hello Bello Files For Bankruptcy
The company filed for Chapter 11 as part of a "strategic move" to keep the brand up and running.
Hello Bello, the diaper and baby care product brand founded by Kristen Bell and Dax Shepard, has filed for bankruptcy. On Monday, the company announced that it voluntarily filed for Chapter 11 as part of a "strategic move" to keep the brand up and running amid rising costs and inflation.
"Given macroeconomic trends, including inflation and increased shipping costs, we believe that this course of action is the best path forward to ensure that Hello Bello continues to bring families the highest quality and most environmentally friendly products at affordable prices," Erica Buxton, chief executive officer of Hello Bello, said in a press release.
Hello Bello reached an agreement to be acquired by Hildred Capital Management, a private equity firm that focuses on the healthcare industry. The Los Angeles Times reports that filing for bankruptcy will protect Hello Bello from "creditors while it works out a way to repay them." For example, Hello Bello owes one of its creditors, a tissue products supplier, $22 million, the newspaper reports.
Bell and Shepard, who share two daughters, Lincoln and Delta, founded Hello Bello in 2019. The brand was initially sold exclusively at Walmart, but later expanded to other popular retailers like CVS and Kohl's. Hello Bello's mission is "to create the highest quality products at the most reasonable cost." A 32-pack of diapers, for example, costs $8.99 online while a 60-pack of baby wipes sells for $3.69. The company's products are made in the U.S. with a focus on sustainability.
In October 2021, Hello Bello opened its first wholly-owned diaper distribution and manufacturing center in the U.S. in Waco, Texas, which also includes the brand's first retail shop. "This factory allows us to become a little more independent from all these pretty complicated systems," Shepard told Romper at the opening. Bell added that their roles at the company are essentially to share their experiences as parents but also use their celebrity status. "Going into this, I was very blunt with our partners that I have a job and I'm already overpaid and I don't need another paycheck," the actress told Romper in 2021. "So I'm here to have a seat at the table and throw my weight around and make sure we're on the up and up."
Hello Bello's bankruptcy filing will allow the company to to continue paying employee wages and benefits, the company said in the press release, adding that it expects the sale of the brand to close in the next few months.