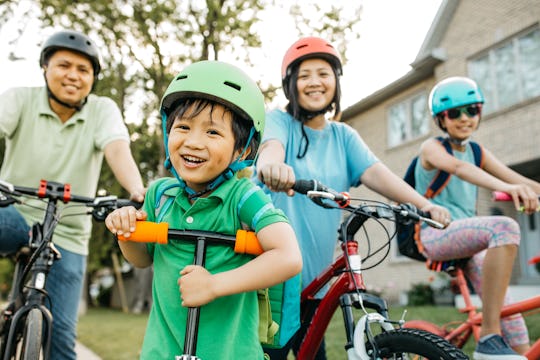 kate_sept2004/E+/Getty Images
10 Last Minute Labor Day Activities For Families
Gotta take advantage of the last long weekend of the summer.
Labor Day is upon us, and whether your kids are already back in school or start in the coming weeks, things are about to get very busy, so you want to make sure you take advantage of the long 3-day weekend that comes with the holiday. Maybe you want to use your resources to book a trip away from home or you might be leaning towards something low-key and local. Whatever the case, here are some suggestions for what to do on Labor Day with kids, ranging from simple to elaborate.
There are a lot of options for Labor Day activities, but when you're trying to throw a plan together at the last minute, it can be kind of overwhelming. But don't worry, it's easier to figure this out than you might think — even considering that it has to be something that's up to your kids' very high standards of what "fun" is.
Whether you're craving something more traditional, something adventurous or you kind of just want to hang out, there's plenty of family friendly things to do on your day off.
What to do away from home on Labor Day weekend
Go camping (or glamping!): The weekend may be a bit too short to travel far, but if you live within driving distance of a camping site, you could make the most of the weekend by getting away. A lot of camping sites also have glamping options, if you want a mattress and a real shower with your nature experience.
Rent a house at a nearby lake or beach: Whether it's through AirBnB or another service, you can probably find a place to rent for a few days at a lake or beach near you. Having the water right outside for the weekend will be so much easier than having to drive over there on any of the days you'd want to go. This would also be a special way to make new memories with the kids.
Book a hotel with a pool: Access to a pool and room service? What's not to love.
Do a bike tour: Spend one day out of the weekend in your nearest city doing a bike tour. They're surprisingly easy to find — go to Backroads.com, put in your destination and you'll find plenty of options for biking, hiking, or walking tours. They accept last minute bookings, too.
Classic Labor Day activities
Create a scavenger hunt or obstacle course: All you need to create these activities are some household items and an imagination! For a scavenger hunt, you can hide items around your house or backyard, or go to a local park and have the kids find things they will definitely find (like a tall tree or a certain color leaf). For an obstacle course, you can create challenges based on whatever you have in your garage and their skill level. Lovevery has a great example for how to do this.
Go to a baseball game: A lot of major league and minor league baseball teams are still playing throughout Labor Day weekend. If it's not too hot out, this could be a really fun activity for kids and adults alike. You could even invite other families to go, too!
Host a barbecue: Barbecues are probably the most common way to celebrate Labor Day, given it's one of the last opportunities to have one before it gets cooler out and schedules fill up. To make it extra low-lift, make it a potluck.
Have a picnic in a local park: If you don't feel like hosting, you could get together with family and friends at a local park for a picnic. If there's a playground or space to run around, your kids will have something to do while you get a chance to socialize and you won't have to worry about cleaning the house.
What to do if it's too hot or rainy
Shop the Labor Day sales: Been a while since you visited a mall? Depending on where you live, school has already started or is staring soon — so take advantage of the sales. You can get your kids involved by having them write a list of back-to-school needs and wishes and either taking them to the stores or having them help pick items out online. Perhaps you can even get an early start on holiday shopping.
Have a movie marathon: There are some great family friendly movies to watch on Labor Day. Depending on the age and interests of your kids, Ballerina, Hidden Figures, and Rookie of the Year could be some great movies about hard work to show them. Take turns picking flicks and leave out a massive tray of snacks.
Do a Labor Day-themed arts & crafts project: It may not seem like there would be a Labor Day-themed arts & crafts project out there, but there's plenty of options that could be made to fit the theme. For example, you and your kids could learn how make red, white and blue potholders (or whatever color their hearts desire) using a potholder loom. Not only is it easy, but it's useful and your kids will be proud that they made something that gets used everyday in the kitchen. You could also help them make a star-spangled craft wreath, which can be displayed again and again on any patriotic holiday.
What you do on Labor Day can be as eventful or chill as you want it to be. Manage your expectations, don't overthink it, and enjoy the time you get to spend with your family.