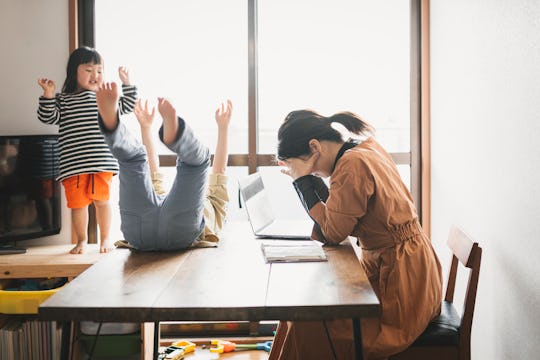 kohei_hara/E+/Getty Images
25 Memes About Being Sleep Deprived, Because It's Something Parents Know Too Well
by Olivia Youngs and Lindsay E. Mack
Ah, sleep. A word with such sweet memories, but one that I also don't remember the meaning of. My last full night of sleep was sometime long before my first positive pregnancy test, well over three years ago. I can picture myself sleeping now — in fact, it's a hobby of mine, imagining that I'm asleep — and I look so peaceful. If you're a parent too, you probably have the same dreams of a full night's sleep, and these memes about being sleep deprived will hit close to home, triggering both intense sadness and a reminder of your irreparable exhaustion.
You see, I thought I knew what exhaustion meant before having kids. Those self-inflicted all-nighters? Those were tiring, yes. Partying and just staying up because I was young and reckless? At least I could sleep in till noon the next day. Parenthood? It's not in the same universe. Not even close.
A parent's sleep depravity isn't self inflicted. It's imposed upon us by small children that share our DNA but that haven't learned how to sleep, eat, or do anything without our assistance. At any hour of the day.
I love my kids, don't get me wrong. But do I sometimes contemplate inventing time travel so that I can relive my sleeping-in glory days. And if you feel the same way, then you'll appreciate these memes about being sleep deprived.
This article was originally published on