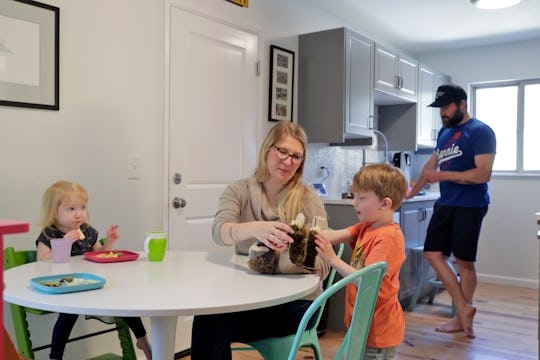 San Francisco Chronicle/Hearst Newspapers via Getty Images/Hearst Newspapers/Getty Images
These 15 Marriage During The Pandemic Tweets Are Way Too Relatable
If life post-pandemic promises one thing, it's this: We're either going to see a whole lotta babies being born in about nine months from now — or everyone and their mother is going to be getting divorced. Because even though you promised to love, honor, and cherish, ain't nothing in the vows that talks about pandemics, quarantines, and homeschooling, oh my! And apparently, you're not alone in your relationship angst, because the internet is rife with marriage during the pandemic tweets that will definitely make you laugh.
When you're stuck together (er, social distancing) 24/7, you're bound to get stir crazy. That explains why all of those previously annoying quirks that your partner possesses are straight-up grounds for divorce at this point. After all, nothing (and we mean nothing) could have prepared you for love in the age of COVID-19. It's this simultaneous blend of blurry days, homeschooling, and an ever-present pair of pajamas on your person. Throw in a partner, and well, it's hard to not question your marriage mettle.
Thankfully, some pretty funny people are letting their relationship woes all hang out, and most of their marriage tweets are pretty darn amusing. See if you find any that make you recognize your own complicated, yet comical, quarantined partnership.