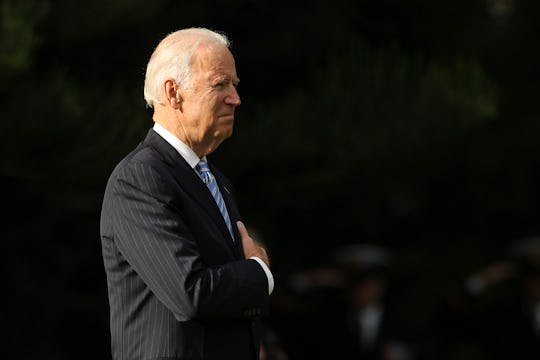 Fiona Goodall/Getty Images News/Getty Images
These Memorial Day Quotes From Presidents Will Give You All The Feels
Because the holiday is more than just a kick-off to summer.
For many of us, it can feel hard to find adequate words to pay tribute to the brave men and women who serve our country. So on holidays dedicated to saluting our troops, it's no surprise many people turn to our greatest orators to seek out inspirational words to honor the day. The below Memorial Day quotes from presidents powerfully and poetically capture the spirit of the holiday.
Memorial Day is often considered the kick-off to summer fun — a day of family barbecues and first trips to the beach. But it's important that we all take a moment to reflect and remember that the freedom and fun we daily enjoy is something hard-won, and comes to us courtesy of our brave service members, both past and present. Reading these quotes from American presidents — all the way from Thomas Jefferson to Joe Biden — helps to capture the spirit and importance of this national day of reflection.
While feelings around the military may be fraught for some — particularly the pacifists among us, or those who feel conflicted about our country's military spending — these concerns shouldn't impact the fact of our troops' tremendous and undeniable courage and sacrifice. It's the reason we salute them — this May 31, and always.
This article was originally published on