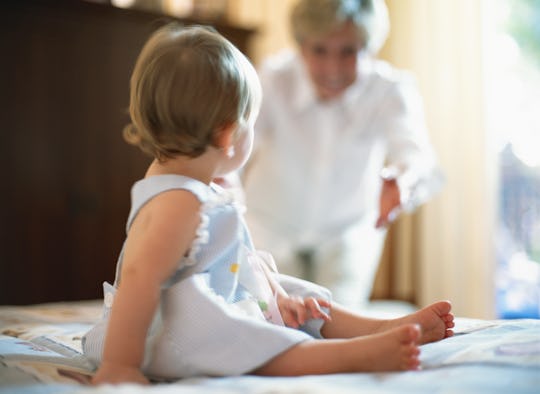 Ryuichi Sato/The Image Bank/Getty Images
Reddit Applauds Mom Who Cut Off Grandma's Allowance After She Refused To Babysit
She can't cover two households anymore.
It's no secret that childcare is probably one of the biggest stressors for working parents. Not just the emotional struggle of leaving your little one with someone else while you go to work, which can be tough for many. There's also the financial hit to consider, a financial hit that will see many parents cutting costs in other areas to make up the difference. Like one mom on Reddit, who decided to cut off her mother's allowance after she said she didn't want to take on caring for her grandchild. And now she's reaching out for advice to see if she made the right decision.
The new mom of one and her husband were able to spend their first year with their child thanks to staggering parental care leave and vacation time, she explained on the popular sub-Reddit forum Am I The A**hole, but now that the year is up the couple are heading back to work. With that in mind, she reached out to her own mom to see if she would be available to watch her grandson.
"She said no. Fair enough. That's her prerogative," the mom wrote on Reddit, adding that she and her husband found a daycare in the area that was well-recommended, but expensive. So much so that they decided to cut down on some expenses, "like the monthly allowance that we'd been giving my mother."
It seems the couple had been supplementing her mother's income for some time because of her difficult past. The 56-year-old grandmother was a stay-at-home mom and wife when her husband left her 28 years earlier and had been out of the workforce, and her daughter had been supplementing her income for some time. Until she had to pay for childcare, at which point she informed her mother that she would be cutting her allowance in half after a period of three months. "She got upset and told us that we were punishing her for saying no. I told her that was not the case but it is hard to maintain two households virtually by ourselves if we had to pay an exorbitant amount of our salaries to daycare every month for the foreseeable future. She was still angry and asked us to leave."
Now this mom is turning to Reddit to see if she did the right thing. And she got her answer several times over. "OP's mom is an adult, and though her background may make it more difficult for her to make ends meet, she is ultimately responsible for her own survival," wrote one Reddit user. "If OP has to cut financial support to her mother to meet her obligations to her literal infant child, then she should do so." Another person noted, "OP offered Mom a paying job doing the only work she's ever done — and Mom turned it down. I don't think she wants to work."
Ultimately, the original poster decided to help her mom find work and move forward, and did point out that she was not "lazy," just a victim of a controlling marriage. Which feels like an incredibly kind way to look at the situation.