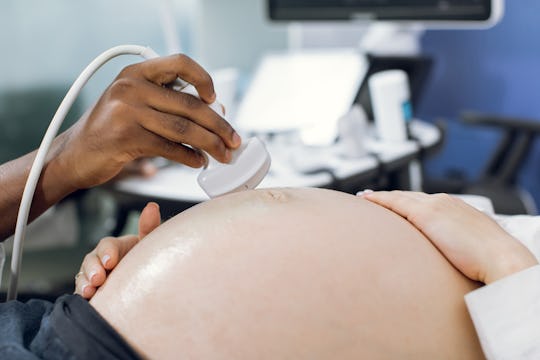 Shutterstock
Hospital Opens First "Rainbow Clinic" In U.S. For Parents Who've Experienced Stillbirth
"It really is addressing not only the medical needs of the patient but also the emotional needs."
Pregnancy is an emotional experience, but for those expectant moms who have experienced loss it can be fraught with complicated feelings/ Excitement and anxiety, hope and despair. Sadness and joy and fear. People who are expecting rainbow babies deserve a particular kind of care that honors not just the baby they are expecting but also the maternal loss they've suffered, and now New York's Mount Sinai has a "Rainbow Clinic" to help with exactly these specific issues.
Approximately 1 out of 160 births, or 24,000 births, are stillbirths in the United States every year, according to the Centers for Disease Control and Prevention. Early stillbirth is defined as a baby born between 20 and 27 weeks gestation, a late stillbirth is from 27 to 36 weeks, and a term stillbirth is anything beyond. While these are the statistics of pregnancy loss, the reality of it is a nuanced, tragic, and heartbreaking thing to bear. And the Rainbow Clinic at Mount Sinai recognizes that "women and their families who have had a stillborn child need emotional support, the most advanced medical attention, and someone to walk beside them — every step of the way," per the clinic's website.
The Rainbow Clinic at Mount Sinai is the first of its kind in the U.S., and has partnered with an organization dedicated to ending preventable stillbirth called PUSH for Empowered Pregnancy to develop specific training to guide expectant parents through their rainbow pregnancies.
The clinic offers parents advanced care including psychological support and state of the art equipment, clinic head Dr. Joanne Stone told CBS, in an effort to "investigate as thoroughly as possible the causes of stillbirth."
"In the case of unexplained, we sort of outline a plan that really involves much closer surveillance," Stone explained. "We have tests, ultrasound ways of monitoring the fetus." All of which is meant to soothe the natural fear and anxiety for parents who have already suffered a loss.
"It really is addressing not only the medical needs of the patient but also the emotional needs," Stone told CBS.
The Rainbow Clinic at Mount Sinai was modeled after a similar one in the United Kingdom that was opened by Professor Alexander Heazell, an internationally recognized specialist in stillbirth research. As with the UK clinic, staff are trained to deal with anxiety in patients and to help prevent potential future pregnancy losses. There are nutritional coaches, genetic testing facilities, social workers available, and of course, excellent prenatal and obstetric care.
Pregnancy after suffering a loss is its own type of pregnancy, and it's wonderful to see that recognized in this Rainbow Clinic.