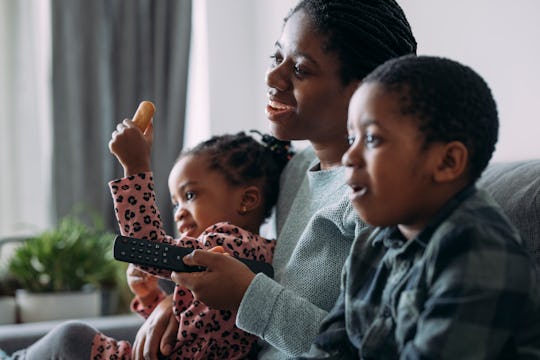 miniseries/E+/Getty Images
If Your Kids Loved "Jumanji," Try These Movies
Now go have an adventure!
When it comes to watching movies with your kids, you don't really have too many genre choices. Rom-coms? Too kissy-kissy for young kids. Horror? Well, you know, too violent. Psychological thriller? Um, kinda inappropriate. That's what makes family adventure flicks so fun, since they're exciting and might entice you to explore all on your own. And if you grew up in the 80s or 90s, then there's one film that tops them all: Jumanji. So if you're looking for something new to watch, these 15 movies like Jumanji will make you want to go out and have an adventure.
Picture it. 1995. A movie named Jumanji is released in theaters and becomes a box office success. Starring Robin Williams as Alan Parrish, a man who has been stuck inside a board game named Jumanji for 26 years. When siblings Judy and Peter Shepherd come across the game and play it, the now-adult Alan is finally released along with giant mosquitoes, a lion, carnivorous vines, and swarms of monkeys. Ultimately, the fantasy film (which grossed over $262 million worldwide) is about the chances we take, learning how to work as a team, and ultimately how sometimes you just have to keep rolling the dice to move forward in life.
So if you're ready to have an adventure of your own with your kiddo, stream Jumanji, or if you're old school, pop a cassette tape into your VCR. Because adventure is out there — if you want it.
All of these movies can take you on magical adventures with your fam. From outer space to deep in the ocean depths, you'll get to travel the world with the ones you love the most — and never have to leave home.