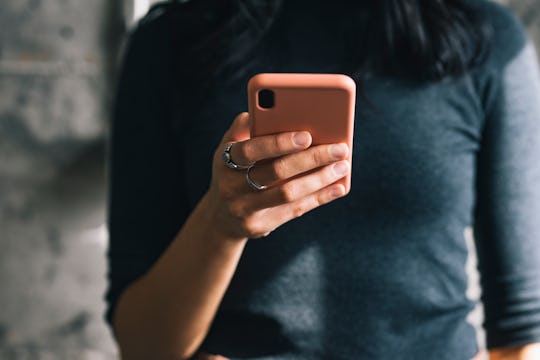 FreshSplash/E+/Getty Images
A New 3-Digit Mental Health Hotline Is Launching Soon
You'll be able to dial 9-8-8 for help.
There's about to be a new, nationwide mental health hotline people can access as easily as they do emergency assistance through 9-1-1. As of July 16, Americans can dial 9-8-8 and be routed immediately to the National Suicide Prevention Lifeline. Because the time has finally come when we acknowledge that mental health emergencies are as important and pressing as physical health emergencies.
The past two years have seen a marked rise in mental health struggles. The Covid-19 lockdown saw a 25% surge in anxiety and depression around the world, according to the World Health Organization, with young people and women struggling the most under the added new pressures of living through a pandemic. "The information we have now about the impact of COVID-19 on the world's mental health is just the tip of the iceberg," Dr. Tedros Adhanom Ghebreyesus, WHO Director-General, said in March. "This is a wake-up call to all countries to pay more attention to mental health and do a better job of supporting their populations' mental health."
Lifeline is heeding that wake-up call and taking it seriously. In September 2020, Congress voted to adopt 9-8-8 as the new three-digit number for people to access the National Suicide Prevention lifeline nationwide, and it will officially come into effect on July 16. While people in need will still be able to connect with Lifeline's trained professionals via the toll-free number it currently uses, 1-800-273-8255 (1-800-273-TALK), the three-digit 9-8-8 number could prove vital for those in severe crisis. "When somebody is in a crisis, they need to be able to easily access, who do I call? Where can I go? And the idea is that 988 will become that number," Matthew Wintersteen, a clinical psychologist at Thomas Jefferson University, told The Philadelphia Inquirer.
Suicide is now one of the leading causes of death in the United States, according the National Institute of Mental Health, with nearly two-and-a-half times as many suicides as there were murders reported in 2019. And the numbers across the country have been on the rise in the past two years. People between the ages of 18 to 25 are at the highest risk of experiencing suicidal thoughts, and sadly not everyone has access to therapists. Which is why having such easy access to the National Suicide Prevention hotline is so important.
"When you get on the line with someone who is trained as a professional counselor, they are able to help instill hope," Dale Adair, chief psychiatric officer at the Pennsylvania Department of Human Services, told the Philadelphia Inquirer. "The person taking the call is able to help the person develop a safety plan."
If you or someone you know is seeking help for mental health concerns, visit the National Alliance on Mental Illness (NAMI) website, or call 1-800-950-NAMI(6264). For confidential treatment referrals, visit the Substance Abuse and Mental Health Services Administration (SAMHSA) website, or call the National Helpline at 1-800-662-HELP(4357). In an emergency, contact the National Suicide Prevention Lifeline at 1-800-273-TALK(8255) or call 911.