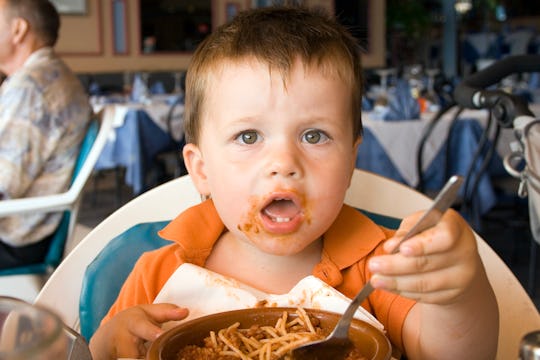 aphrodite74/E+/Getty Images
NJ Restaurant Announces Controversial New Policy: No Kids Under 10 Allowed
"Between noise levels, lack of space for high chairs, cleaning up crazy messes, and the liability of kids running around the restaurant, we have decided that it's time to take control of the situation."
Nettie's House of Spaghetti in Tinton Falls, New Jersey, has everyone talking and it's not about their meatballs. The Italian restaurant has decided to ban children under 10 years of age from eating at their establishment and folks are having a lot of big feelings about the eatery's controversial move.
The restaurant recently announced on social media that it would no longer allow children under the age of 10 to dine in house. "We love kids. We really, truly, do. But lately, it's been extremely challenging to accommodate children at Nettie's. Between noise levels, lack of space for high chairs, cleaning up crazy messes, and the liability of kids running around the restaurant, we have decided that it's time to take control of the situation," Nettie's House of Spaghetti announced in a post on Facebook.
"This wasn't a decision that was made lightly, but some recent events have pushed us to implement this new policy," the restaurant added. "As of March 8, the day we return from our winter break, we will no longer allow children under 10 to dine in the restaurant."
While the restaurant didn't specify exactly how it planned to implement the new age criteria, it did acknowledge that it would make some people "very upset, especially those of you with very well-behaved kids, but we believe this is the right decision for our business moving forward."
Some social media users were quick to applaud the restaurant's decision to ban children, particularly restaurant workers. "Fantastic idea… having worked in the industry since I was 14, i've never seen anything like I have in the recent past," one person commented on Facebook. "Kids are out of control and most parents are oblivious. The disregard for manners and common decency is unreal ... Good for you for taking a stand."
A general lack of manners did seem to be the main concern for people who supported the idea.
Another parent, who is a single mother, supported the idea as well on Instagram. "I love this decision. Nothing frustrates me more as a single working mom then [sic] when I get the rare chance to go out (with adults and not children and not to an Applebees or kid friendly restaurant) and there are kids not only acting up but parents completely oblivious to it and not even trying to discipline their children. I applaud this decision and can not wait to come dine there!"
It seems the issue most people had was with parents as opposed to their kids.
This Instagram user noted that the restaurant is "still allowing kids, just not under 10. It's their restaurant, their choice. I love it. I hate eating out with a screaming kid next to me."
Not everyone loved the idea, however. One Twitter user called them "cranky."
This parent pointed out how difficult it would be if all restaurants followed suit. "Imagine if more establishments started doing the same. That's just awful. Children are part of the family unit. They are our future. I would never patronize a restaurant that wouldn't allow children. I wish you luck but don't be surprised if it affects your bottom line."
Several social media users pointed out that the name of the restaurant, Nettie's House of Spaghetti, does certainly give the impression of being kid-friendly.
Another user pointed out that some adults can get pretty unruly themselves. "This is awful. So some people don't discipline their children, you decide to ban all children? Sounds perfectly logical. What happens in the summer when you get a bunch of unruly adults???"
Finally, this Twitter user was curious about the logistics of the ban.
Nettie's certainly isn't the first restaurant to address how to deal with kids in restaurants. A South Carolina restaurant went a different route and chose to offer in-house child care so parents and caregivers could relax, for instance. Certainly parents want to be able to eat at restaurants with their kids, that's not really the debate here. How that experience looks, however, does seem to be the question.