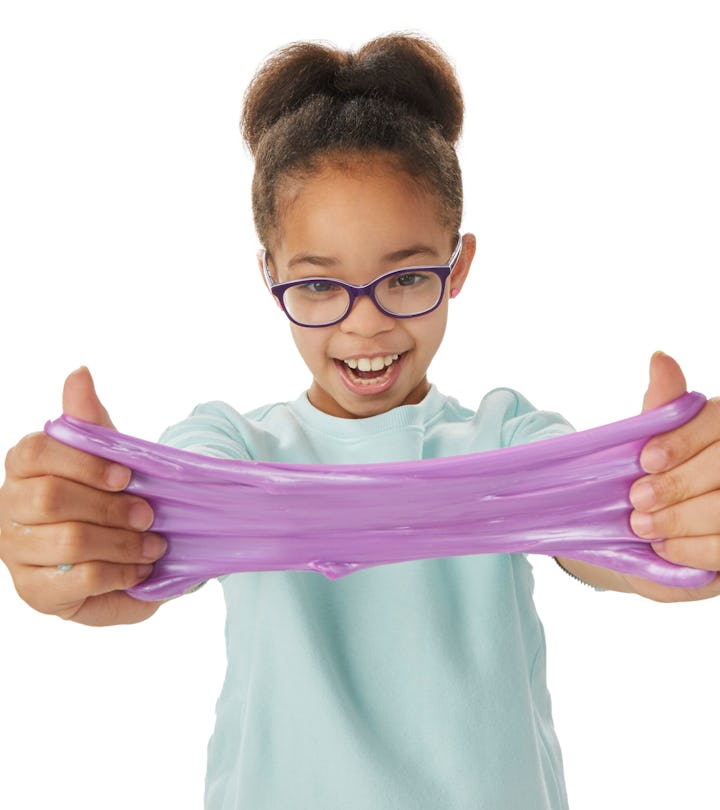 Hasbro
The New Play-Doh x Nickelodeon Slime Lineup Is Full Of Nostalgia
We're talking very stretchy green slime for all you '90s kids.
There are only a handful of products guaranteed to keep my 4-year-old (that we affectionately call Hurricane Lucy) occupied for longer than five seconds, and Play-Doh and slime top the list. And now, in what can only be considered her dream come true, Play-Doh and Nickelodeon Slime are collaborating on a brand new product lineup of slimes in fun textures, kits, and sizes.
Nickelodeon Slime is one of those things from the '90s that every kid wanted to experience. We all saw enough celebrities and kids on Double Dare get covered in that we wanted in on the action, too. Combine that icon with Play-Doh and you have the ultimate '90s fun available for your own kids.
With prices ranging from $5.99 to $24.99, the new Play-Doh x Nickelodeon Slime lineup will include Slime Food Blends that have fun kid scents, along with Waterfall Slime which I can tell you is the most satisfying sandy, stretchy slime you've ever seen. It's almost like kinetic sand combined with slime. There's no sticky residue, no big glops dropping as you pull and stretch — it's weirdly hypnotic. It also comes in a fun tube of two different colors, separated by an inner canister. So smart.
The new Play-Doh x Nickelodeon Slime lineup will also have enormous tubs available of Super Stretch Slime and Classic Slime, each coming in a size that's over 1.5 pounds. I know, that sounds like a lot of slime. But as a family of three little girls, we are used to messes and we are definitely used to slime, and I just have to tell you: this stuff has BIG stretch, and doesn't stick all over the place like a lot of other slimes. Also the color will take you right back to the '90s. There will also be a Rainbow Mixing Kit of slime in the product lineup for those who want to feel like little slime scientists.
"Partnering with Play-Doh to bring Slime to life has been an exciting journey," says Dion Vlachos, Executive Vice President, Licensing and Retail, Paramount Consumer Products, in an exclusive quote to Romper. "With new colors and textures, we're offering even more customization and individuality in play that allows for kids to use their imaginations in new, fun ways."
Slime and Play-Doh are two of my favorite things to enjoy with my girls, and there's something so nostalgic and fun about the new Nickelodeon lineup. I don't know if it's because I spent entire summers watching Stick Stickley get slimed or if it's just because I can't get enough stretching of the Waterfall Slime, but I'm excited to enjoy even more.