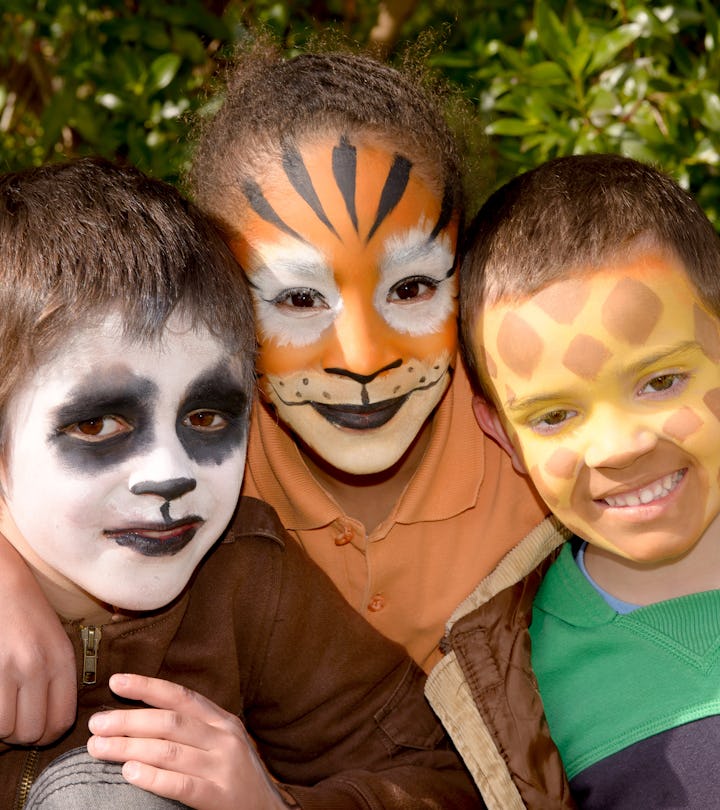 Shutterstock
5 Non-Toxic Halloween Face Paint Options For Kids
This non-toxic face paint contains no tricks for your little trick-or-treaters.
Parents know they have to be diligent about ensuring the safety of Halloween treats their kids eat, from reading labels to checking the wrappers. But what about what they put on their skin? Maybe you've already grabbed some non-scratchy, soft costume pieces, but now you need non-toxic Halloween face paint options for kids to really complete the look.
It may not be something you've given a lot of thought to before, but stay with me here. A report published by the Breast Cancer Fund tested nearly 50 Halloween face paints marketed to children. The study found that roughly half of the products contained at least a small amount of the heavy metals arsenic, cadmium, chromium, lead, or mercury, with some products containing as many as four of them. Exposure to these metals has been linked to developmental delays, hormonal imbalances, and even cancer. It is not known exactly how much exposure a child needs to have to these chemicals to see these harmful effects, but as the Centers for Disease Control and Prevention mentioned, there is no safe blood level of lead.
So when you're shopping for your kids' face paint, it is important to read the labels carefully to check for dangerous ingredients. Here are a few brands that are safe to use on children, all are FDA- and toy and cosmetic regulations-compliant, as well as paraben-free. And if you are concerned about the safety of face paint you already own, be sure to check the labels for benzophenones, BHT, ethoxylated ingredients, formaldehyde, fragrance, mineral oil, parabens, petrolatum, silica, styrene compounds, and talc, as Woman's Day suggested.
We only include products that have been independently selected by Romper's editorial team. However, we may receive a portion of sales if you purchase a product through a link in this article.