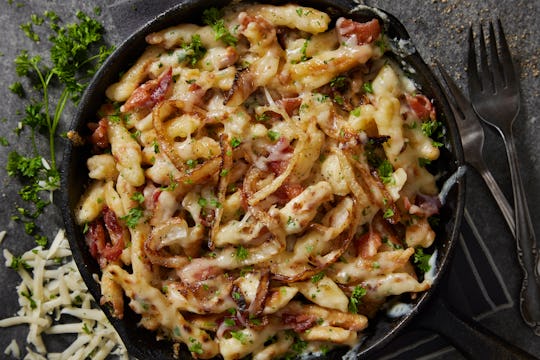 LauriPatterson/E+/Getty Images
16 Oktoberfest Dinner Ideas The Whole Family Will Love
Oktoberfest is known as being pretty much the most epic fall drinking holiday, but there are plenty of ways to turn Oktoberfest into a family-friendly (and sober) event. The traditional festival takes place all over the world, but its ties to Germany give you the chance to whip up some epic Oktoberfest dinner ideas for your family. From traditional German Oktoberfest fare like pretzels and Bavarian cheese beer dip to fun recipes like a German pancake or schnitzel, there is so much fun to be had with an Oktoberfest dinner menu.
These dishes may sound complicated, but a lot of them are much easier than you think to pull off. Invite a bunch of people over for your own Oktoberfest celebration with family and friends, or just use this opportunity to discuss Germany with your kids and make your own Oktoberfest dinner. There are so many ways to work in these Oktoberfest dinner ideas, and anybody at your table is going to shout, "Wunderbar!" at every bite. (And then maybe wander... to the bar? OK, not the kids, but feel free to grab a few Oktoberfest brewskis for those of legal drinking age to enjoy with all of the German food.)
Whether you're hosting an Oktoberfest celebration or just want a fun, themed dinner for your family, these Oktoberfest dinner ideas are a must to try.