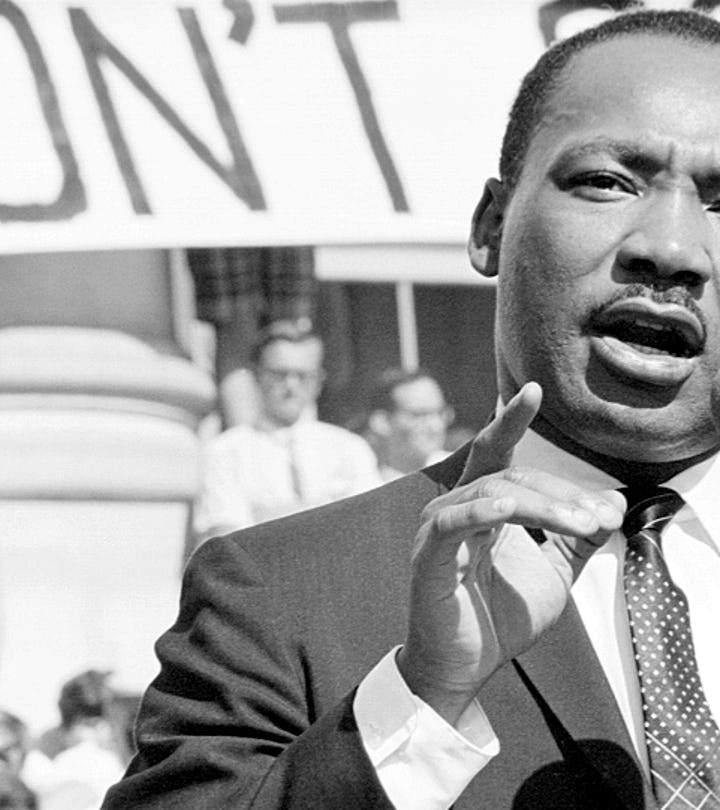 Michael Ochs Archives/Getty Images
3 Organizations To Donate To On Dr. MLK Jr. Day
Pay tribute by paying it forward.
Monday commemorates the life and legacy of Dr. Martin Luther King, Jr., an American hero who championed the rights and dignity of all people, and endures today as a symbol of resistance in the face of government oppression. If you're looking for organizations to donate to on MLK Day to honor his life's work, sacrifice, and civil rights legacy, there are places continuing his mission today. And if you've been paying attention lately, you'll know there's still plenty of work to be done to achieve racial equality.
Just in case you're wondering whether the world still needs civil rights activists and activism, consider that despite the mark MLK left on the American civil rights movement, the public holiday honoring his memory is still under contention in several states. While the third Monday in January is observed as Martin Luther King Jr. Day by the federal government, and has been since 1983, there are still places that are still resisting honoring King, specifically.
In 2022, Alabama and Mississippi celebrated "King-Lee" Day instead of Martin Luther King Jr. Day, Newsweek reports. General Robert E. Lee, commander of the Confederacy's army, happens to have a birthday on January 19, which fell on MLK day that year. Between 1984 and 2000, the state of Virginia designated the third Monday of January as Lee-Jackson-King Day, throwing in yet another Confederate general, Thomas "Stonewall" Jackson. Lee-Jackson Day became a separate holiday until finally being done away with in 2020, Newsweek reports.
If you think it's shocking MLK is still on the receiving end of these kind of sleights in 2023, consider making a donation to an organization to mark the holiday. Here are a few organizations to choose from that both honor King and carry on his message of tolerance, peace, and justice for all.
1. The Martin Luther King Jr. Center For Nonviolent Social Change
Founded by King's widow, Coretta Scott King, The King Center seeks to educate and spread Dr. King's message of furthering civil rights for black people through nonviolent, peaceful protest. You can donate any amount, and find ways to volunteer.
2. Rainbow PUSH Coalition
Founded in 1996 by King protege Reverend Jesse Jackson, Sr., the Rainbow PUSH (People United to Serve Humanity) Coalition raises money to help improve the lives of marginalized Americans, serving as a "voice for the voiceless" and promoting "peace and justice around the world," according to the organization's site. From workshops and activism to scholarships, donations help advance the cause of civil rights in America and abroad.
3. NAACP Legal Defense Fund
More than 75 years old, the NAACP Legal Defense Fund is a non-profit legal activist agency working to combat racial injustice and inequality in America's criminal justice system, and make the country's economic and educational prospects brighter for all Americans. These are the lawyers on the front lines of protecting civil rights in courtrooms across the country. Donations go directly toward efforts to protect voting rights, reform the justice system, and more.
If you're looking for an opportunity to roll up your sleeves and do what you can to honor King's legacy, you can go to the Corporation for National and Community Service to find opportunities to volunteer in your area.
This article was originally published on