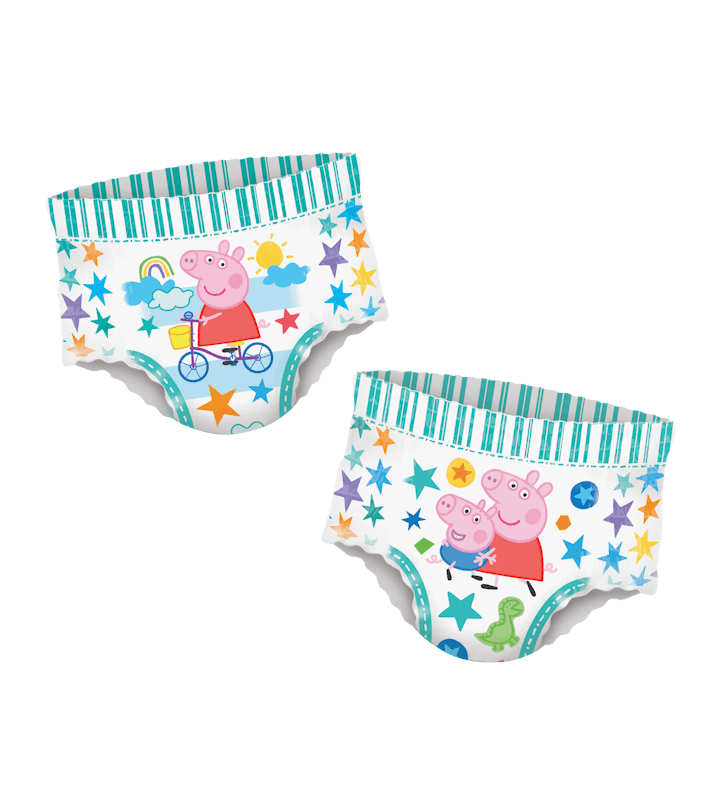 Pampers Easy Ups Has New Peppa Pig Designs
Perfect for the kiddo who's ready for potty training, these will let them stay dry and jump in all the muddy puddles.
Any parent who has even thought about potty training has heard the same advice: get your kids underwear with their favorite characters on them. The idea is that your child won't want to pee all over Peppa Pig and be more inclined to go to the potty, but let's be honest: accidents happen, and it can make for a lot of laundry. Luckily, if your kid is all about jumping up and down in muddy puddles, the new Pampers Easy Ups x Peppa Pig collab is exactly what you need.
For a limited time at Walmart, Pampers Easy Ups Training Underwear are partnering with Hasbro to bring your kiddo's favorite character straight to their potty training days. And even better, Walmart's Baby Days — the big annual sale for parents to stock up on baby gear and necessities — will include these new Peppa Pig Pampers Easy Ups designs. Baby Days will happen in stores and online from February 15 2023 to March 31, 2023.
Even if your child isn't ready to potty train, stocking up on the packs of Easy Ups might not be a bad idea, as they're only available for a limited time, and especially because these are great for both boys and girls. Peppa Pig is a universally loved cartoon for all children, but I've heard from plenty of parents of sons that it can be hard to find Peppa Pig-themed accessories, clothing, and toys that their little guys are also interested in. The new Pampers Easy Ups Peppa Pig designs feature both Peppa and George, and the designs are bright and fun, with lots of stars, rainbows, and a cute stripe pattern on the waistband.
The Peppa Pig Pampers Easy Ups also come in great sizes. You can get an 84-count box of the 2T - 3T size, a 76-count of 3T - 4T, and a 66-count of 4T - 5T. (Honestly, the boxes are cute enough on their own, your kid is going to flip.) Whether you shop in stores or online, the Pampers Easy Ups x Peppa Pig limited edition designs are available at Walmarts nationwide.