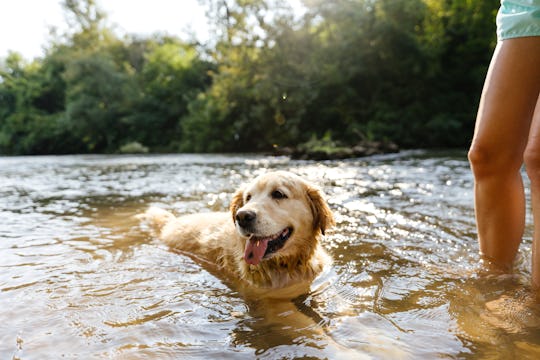 AleksandarNakic/E+/Getty Images
15 Dogs Who Summer Better Than You
Nothing like taking a dip in the dog days of summer.
Sometimes after a particularly rocky day of adulting, I think about how relaxing and low-stress it would be to be a dog (please tell me I'm not alone in this). This feeling is especially prominent when I see dogs joyfully splashing around in water without the need to pack a beach bag, slather on sunscreen, or shimmy into an ill-fitting swimsuit. These 15 pictures of dogs swimming may just make you wonder if your pup friends are taking better advantage of the long summer summer days than you are.
Whether they're paddling in turquoise pools in Japan, jumping into a Bulgarian lake, or simply laying in an inground swimming pool without a care in the world, these dogs know how to unwind on the hottest days. And even if you don't have a pool or a lake nearby, you could opt for a durable kiddie pool to keep your dog (and your child) cool and entertained all summer long (I learned how operative the word 'durable' is here after an unfortunate incident with my dog's paw and my $13 blow-up pool).
Take a look at these 15 pictures of dogs living their best life in water below, and be ready to plan your next pool paw-ty.