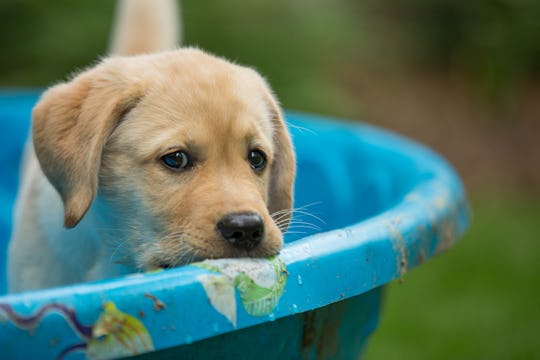 Shutterstock
The Best Durable Pools For Your Pups This Summer
Now you can quit screeching at them when they get too close to the kid's inflatable pool.
Whenever summer starts, my favorite thing to do is jump in the pool. I'm a proud dog mommy, so I love getting in the pool with my dog — but don't exactly love the hair that he leaves behind. Having a kiddie pool for dogs on hand when the warm weather hits means that both myself and my pup can enjoy some much-needed cooling down without his fur clogging up our pool filter.
Unfortunately, it turns out that most traditional, inflatable kiddie pools don't work for dogs. Their nails (even if they're not all that sharp) can cut through the material pretty easily. When your kid's wading pool suffers a paw puncture, both your kid and your pooch are out of a swimming spot in one fell swoop. Instead, what you need is a kiddie-style pool that works exclusively for dogs. These dog-specific pools are usually made of tough and durable material, like PVC rubber or sturdy plastic. And don't worry, you can still put both your human and fur babies into these pools.
From a paw-shaped doggie pool to an inflatable pool that will withstand your pup's scratches, here are the best kiddie pools for dogs that you can enjoy all summer long.
We only include products that have been independently selected by Romper's editorial team. However, we may receive a portion of sales if you purchase a product through a link in this article.