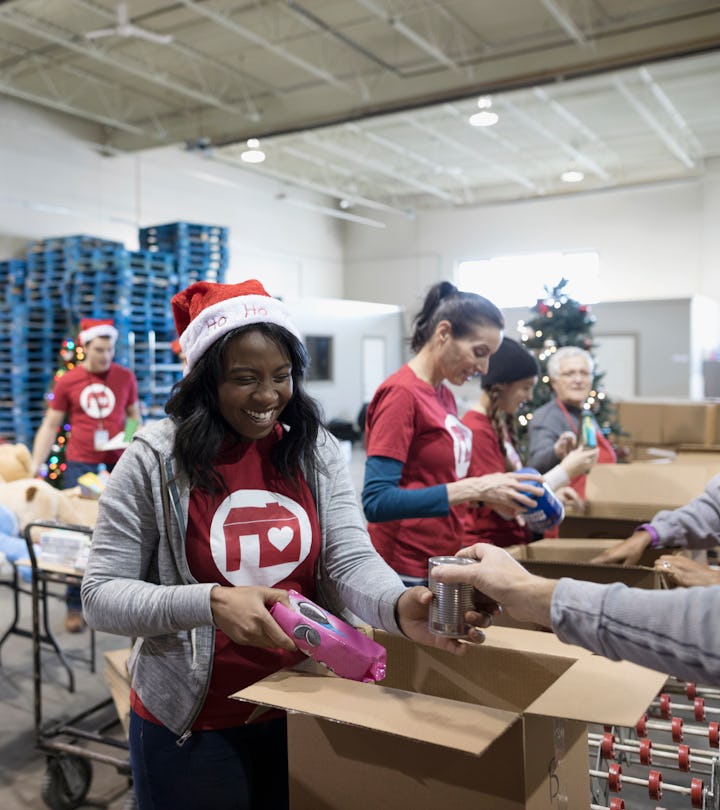 Hero Images/Hero Images/Getty Images
20 Places To Volunteer On Christmas Eve
You can make a difference.
The holidays are all about the fuzzy family feels — but they're also about helping those in need. Still, if you've never volunteered in an official capacity before, it can be overwhelming to know where to start. Do you serve up meals to homeless people, or paint pictures with seniors? So. Many. Options. If you're looking to spread some holiday cheer beyond your home this year, you can look to these places to volunteer on Christmas Eve.
Before you put on your volunteering hat, you should have an idea of how you'd like to serve your community. Do you want to be on the frontlines and work one-on-one with homeless families, or are you more of a behind-the-scenes food prep kind of person? Do you prefer working with older adults, or is playing board games with little kids who are spending Christmas Eve in the hospital more your thing?
No matter what type of volunteering you choose to do on Christmas Eve, your efforts will most definitely be appreciated. So think beyond that classic image of someone spooning a ladle of soup into a bowl for a less fortunate person and look for ways to pitch in that would be perfect for your personality. That way, you might find that you walk away from your volunteering efforts with even bigger blessings than you ever expected.
There are many ways to volunteer on Christmas Eve, and you might be able to include your children in on some of them for a truly happy holiday.
This article was originally published on