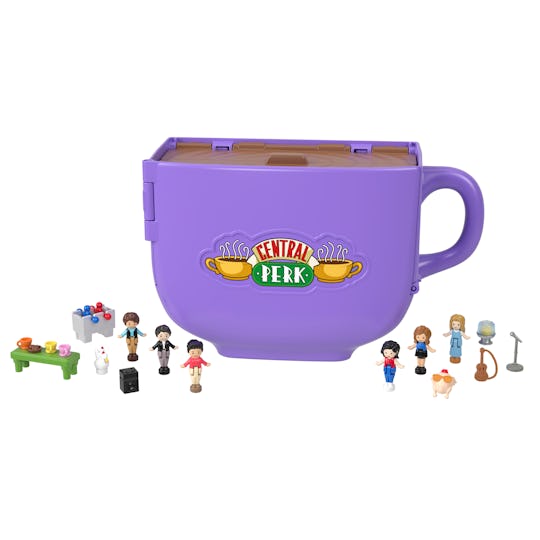 Polly Pocket Now Has A Friends Compact (Could They Be Any Smaller?!)
Joey doesn't share food, but maybe he'll share toys...
Friends may have gone off the air almost 20 years ago, but it remains in our hearts. And now, it can always be in our pocket! The beloved series has teamed up with another iconic brand, Polly Pocket, for a toy that includes teeny-tiny versions of all your favorite characters in their natural habitat: Central Perk. Could we be any more excited?
The exclusive collector compact is, naturally, shaped like an over-sized coffee cup ("which, I'm sorry, might as well have nipples on them") and opens to reveal three main locations from the show — Central Perk, Monica and Rachel's apartment, and Joey and Chandler's apartment. But the nostalgia doesn't end there; there are nine accessories and fun features that mega-fans will recognize as some of the series best moments and biggest laughs. Chandler's pets (Yasmine and Dick), Phoebe's guitar (she just might break into a rendition of "Smelly Cat") and that Thanksgiving turkey. The set is available through the Mattel shop and other major retailers like Target, Walmart, and Amazon for $50.
The collab launched on July 24 in honor of International Friendship Day on July 30, which kicks off the second annual Friends Fan Week from Warner Bros. Discovery Global Consumer Products. The event also features experiences, programming, giveaways, and other products to celebrate friendship and, of course, the series that ensured we can never again say the word "pivot" without frenetically shouting it.
And while fun can begin and end with Polly Pocket (whomst among us doesn't love PP and her pals?), there's more! In celebration of Friends Fan Week, The FRIENDS Experience — a unique interactive experience where fans can explore recreations of Friends sets — will host an online giveaway on Instagram (@friendstheexperience) beginning July 28.
Didn't win big? That's OK: they're also offering a ticket promo for 25% off purchases of three or more tickets to New York City; Long Beach, California; Detroit, Michigan; Brussels, Belgium; and Birmingham, U.K. locations starting on July 29 at 10 a.m. ET and running through 11:59 p.m. local time on Monday, July 31. (For more information or to purchase tickets for The FRIENDS Experience, visit www.friendstheexperience.com.)
But, honestly? The nostalgia of Friends and the nostalgia of Polly Pocket is enough to get us pretty excited.