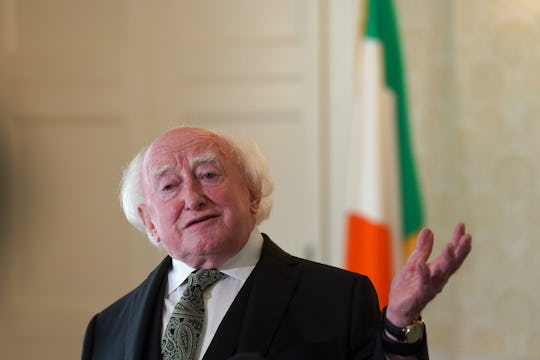 Brian Lawless - PA Images/PA Images/Getty Images
The President Of Ireland Wants To Get Rid Of Homework & Honestly, He's Onto Something
"The time in the school is an educational experience and it should get finished at the school."
Do you know who doesn't like homework? Kids — and certain presidents. In an impassioned plea to the people of his nation, President Michael D. Higgins has called for a ban on homework across Ireland. And if small children were given the right to vote tomorrow, I feel fairly certain I know whose name they would be supporting on the ballot.
Higgins, who is himself a former Arts Minister of Ireland and therefore, in my opinion, knows a little about the subject, spoke to Ireland's news program for kids RTE's news2day at St. Kevin's School in Tipperary about a number of subjects. What he wanted to be when he was a kid himself. What was his favorite sport in school, which he said was handball. When did he decide he wanted to be president. And then, the mutual bane of their existence — homework.
"I think myself, really that the time at home, and the time in the school is an educational experience and it should get finished at the school and people should be able to use their time for other creative things," Higgins told his interviewers, four children hanging on his every word.
While it remains unclear if Higgins has begun any official paperwork to ban homework, which would ironically be homework for him, his sentiment resonated with his many fans. Children and social media users alike in fact. One person tweeted their appreciation of the fact that Higgins was "running his nation like the little Hobbit he is."
Another social media user wondered if Higgins was really a "forest sprite."
This social media user found the idea inspiring, writing, "We need a national conversation on how to bring more play, creativity, imagination, movement and positive experiences into our children's lives. Banning homework would be a great first step."
Higgins ended his interview with a message to children about the importance of fostering their friendships and telling them to "stay curious about everything and I think it's important to make sure you don't miss the joy of sharing information. And I think an important thing is friendship and to make sure that there's no one left without friendship and that people belong. And we will all do individual things... but I think friendships that you make will in fact always be great memories and that is so important."
I think he's on to something.