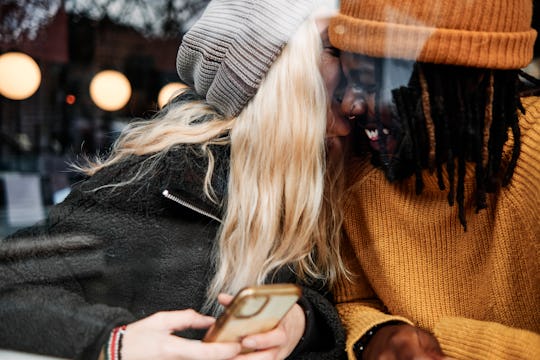 Cavan Images/Cavan/Getty Images
These 48 Quotes About Marriage Are Basically Your Life
These sweet, funny, and wise quotes will make you fall in love with your marriage all over again.
If marriage is on your mind, then see what others have to say about the institution. Sometimes funny, sometimes inspiring or downright romantic, these quotes about marriage are lovely reminders about the best parts of these longtime commitments. Plus, they're a quick way to get a whole range of viewpoints on marriage in one quick read.
Whether you need a great quote about marriage for your anniversary, upcoming wedding, or Instagram, these sentiments have you covered. Writers, celebrities, and even political figures have all waxed poetic about what marriage means to them, and it's fascinating to get these glimpses into their personal lives. And to be fair, plenty of people don't want to get married for financial, personal, or career-related reasons, so it isn't like marriage is in any way a prerequisite for a fulfilling life. (And not marrying because you simply don't want to is a valid reason on its own.) But for others, a traditional marriage helps them feel happy and secure, and that's totally valid, too. So here's what many different people have said about these relationships in particular over the years, and there's no shortage of insightful quotes about marriage that will warm your heart.
Wedding Day Quotes
"Weddings are important because they celebrate life and possibility." — Anne Hathaway
"Having made all the decisions, I think a wedding day is a day when you want to forget what you are wearing and be in the moment." — Jenny Packham
"In Italy, they say rain on your wedding day is symbolic of fresh beginnings, cleansing, a pure marriage, and also a wet knot that can't be untied." — Whitney Wolfe Herd
"A wedding, a great wedding, is just a blast. A celebration of romance and community and love... What is unfun about that? Nothing." — Ariel Levy
"In real life, shouldn't a wedding be an awesome party you throw with your great pal, in the presence of a bunch of your other friends? A great day, for sure, but not the beginning and certainly not the end of your friendship with a person you can't wait to talk about gardening with for the next forty years." — Mindy Kaling
"You don't marry someone you can live with... you marry the person who you cannot live without." — Anonymous
"Weddings to me are wondrous because they are so filled with tomorrows." — Mary Forsell
Inspirational quotes about marriage
"A happy marriage is a long conversation which always seems too short." — Andre Maurois
"There is no more lovely, friendly, and charming relationship, communion or company than a good marriage." — Martin Luther
"Love doesn't just sit there, like a stone, it has to be made, like bread; remade all the time, made new." — Ursula K. Le Guin, The Lathe of Heaven
"Being married is like having someone permanently in your corner. It feels limitless; not limited." — Gloria Steinem
"You don't marry one person; you marry three: the person you think they are, the person they are, and the person they are going to become as a result of being married to you." — Richard Needham
"Make your marriage your own. Don't look at other marriages and wish you had something else. Work to shape your marriage so that it is satisfying for both of you." — Anonymous
Funny Quotes About Marriage
"By all means marry; if you get a good wife, you'll become happy; if you get a bad one, you'll become a philosopher." — Socrates
"Marriage lets you annoy one special person for the rest of your life." — Unknown
"My most brilliant achievement was my ability to be able to persuade my wife to marry me." — Winston Churchill
"They slipped briskly into an intimacy from which they never recovered." — F. Scott Fitzgerald
"One of the keys to a successful marriage is separate bathrooms. When he enters my bathroom sometimes I'm like, 'Why are you in here?' And he's like, 'I live here. Can I enjoy my bathroom too?'" — Michelle Obama
"Who won in life? Me. Because I got to marry you." — Chip Gaines
"A man's main job is to protect his woman from her desire to 'get bangs' every other month." — Dax Shepard
"Make sure you have date night even if it's once in a blue moon, because most of the time you're just too tired and you'd actually prefer to sleep." — Chris Hemsworth
"I don't want to hear about the endless struggles to keep sex exciting, or the work it takes to plan a date night. I want to hear that you guys watch every episode of The Bachelorette together in secret shame, or that one got the other hooked on Breaking Bad and if either watches it without the other, they're dead meat." ― Mindy Kaling
"After about 15 years I finally figured out that she's always right. So surprisingly, we just stopped fighting after that." — Barack Obama
"We just like each other. You start there... I still can't believe my wife goes out with me. If we were in high school and I was just funny, I'd never have the courage to talk to her." — Tom Hanks
Advice Quotes About Marriage
"Don't ever stop dating your wife, and don't ever stop flirting with your husband." — Unknown
"Marriage stands the test of time when both you and your spouse work towards making things better. And we are tested the most when we face adversities. If you can sail through the adversities as one, as a team, then you have won half the battle." — Unknown
"A great marriage isn't something that just happens; it's something that must be created." — Fawn Weaver
"Marriage is not a noun; it's a verb. It isn't something you get. It's something you do. It's the way you love your partner every day." — Barbara De Angelis
"Marriage, to women as to men, must be a luxury, not a necessity; an incident of life, not all of it." — Susan B. Anthony
Romantic Quotes About Marriage
"A perfect marriage is just two imperfect people who refuse to give up on each other." — Unknown
"Marriage, ultimately, is the practice of becoming passionate friends." — Harville Hendrix
"Happy marriages begin when we marry the ones we love, and they blossom when we love the ones we marry." — Tom Mullen
"Happy is the man who finds a true friend, and far happier is he who finds that true friend in his wife." — Franz Schubert
"It's amazing how one day someone walks into your life, and you cannot remember how you ever lived without them." — Unknown
"A happy marriage is a long conversation which always seems too short." — Andre Maurois
"Marriage is the most natural state of man, and the state in which you will find solid happiness." — Benjamin Frank
"So it's not gonna be easy. It's going to be really hard; we're gonna have to work at this everyday, but I want to do that because I want you. I want all of you, forever, everyday. You and me… everyday." — Nicholas Sparks, The Notebook
"To be fully seen by somebody, then, and be loved anyhow — this is a human offering that can border on miraculous." — Elizabeth Gilbert
"I love you without knowing how, or when, or from where. I love you simply, without problems or pride: I love you in this way because I do not know any other way of loving but this, in which there is no I or you, so intimate that your hand upon my chest is my hand, so intimate then when I fall asleep, your eyes close." — Pablo Neruda
"A happy marriage is a long conversation which always seems too short." — Andre Maurois
"There are a hundred paths through the world that are easier than loving. But who wants easier?" — Mary Oliver
Quotes About Marriage For Your Husband
"The essence of marriage is companionship, and the woman you face across the coffee urn every morning for 99 years must be both able to appreciate your jokes and to sympathize with your aspirations." — Elbert Hubbard
"My husband is my best friend, my greatest support, my biggest comfort, my strongest motivation, my truest smile, my deepest love, my favorite, my forever. He has me. Entirely." — Unknown
"I cannot promise you an easy life, or that I will not disappoint you. I cannot promise that I will be the perfect wife. But I can promise you that I will choose to love you every day." — Unknown
"In a sea of people, my eyes will always search for you." — Unknown
Quotes About Marriage For Your Wife
"There is no greater happiness for a man than approaching a door at the end of a day knowing someone on the other side of that door is waiting for the sound of his footsteps." — Ronald Reagan
"I am nothing special, of this I am sure. I am a common man with common thoughts and I've led a common life. There are no monuments dedicated to me and my name will soon be forgotten, but I've loved another with all my heart and soul, and to me, this has always been enough." — Nicholas Sparks
"With you I can be my silliest best and never worry about being judged, because you are my better half in the truest sense. I love you!" — Unknown
"Even the silent moments we share together have the power to drown all of life's chaos. That is why we make a great team, honey." — Unknown
This article was originally published on