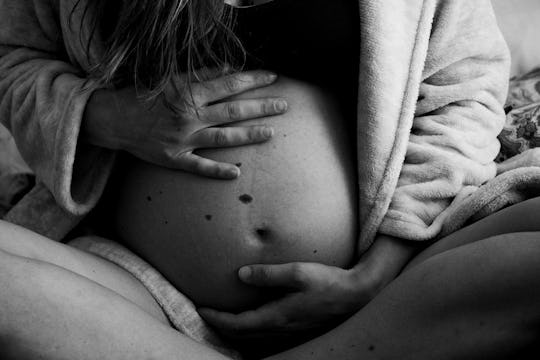 Shutterstock
20 Meaningful Quotes For National Pregnancy & Infant Loss Remembrance Day
These quotes really capture the significance of this day.
Every loss in our lives is a painful one, but suffering a miscarriage, stillbirth, or infant death is a special kind of heartache. Mere words alone can't ease that pain, but reading or sharing a quote for National Pregnancy and Infant Loss Remembrance Day can help a grieving parent feel supported and just a little less alone during an overwhelming and emotional time.
In 1988, President Reagan designated the month of October as a time to acknowledge pregnancy and infant loss. It wasn't until 2006 that Congress declared October 15 National Pregnancy and Infant Loss Remembrance Day, the result of a years-long petition campaign by three mothers, explained in the National Day Calendar. The day is a time to honor and grieve all forms of pregnancy and infant death: miscarriage, stillbirth, SIDS, and infant loss due to medical conditions, illness, accidents or violence.
Even in our current social-media society, where oversharing is the norm, it can be difficult for women to open up about their pregnancy losses, or to reveal the depth of their grief over losing a baby. (I suffered a miscarriage years ago, and this is the first time I've written about it publicly.) It's still a subject we tiptoe around, and that's understandable. It's highly personal. It's awkward. It's so incomprehensible — why should a life be taken so young? — as to be beyond words. Yet being able to openly recognize and mourn the loss can help in the healing. As Shakespeare wrote, "Give sorrow words. The grief that does not speak/Whispers the o'erfraught heart and bids it break."
Below are a few of the many meaningful quotes on pregnancy and infant loss that can be shared either on social media or with a family member or friend who is going through her own personal agony. They all recognize the pain and questioning, rather than offering well-meaning platitudes that don't really help (like "God must have had a reason" or "You can try again"). Take it from someone who's been there: Just acknowledging that there's a day devoted to the unique grief of pregnancy and infant loss can go a long way toward helping moms feel less alone.
This article was originally published on