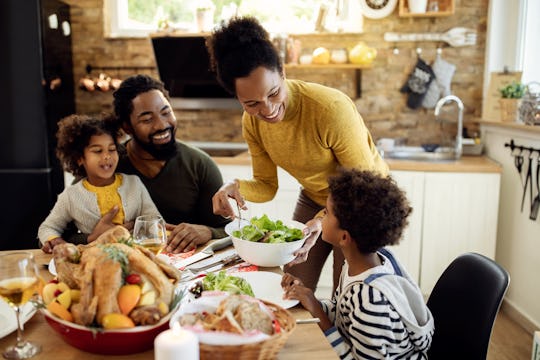 Shutterstock
You're Gonna Love Ralphs's Thanksgiving Hours
And they sell pinot noir.
You made your list and you checked it twice. But still, something is bound to slip, some missing crucial ingredient that is bound to render your Thanksgiving dinner a catastrophe. (Like, you know, the classic green bean casserole or a baster to keep your turkey moist.) Still, just because you're ready to run out the door for a quick shopping trip doesn't mean your supermarket's doors are going to open once you're there. So as you grab your car keys and reusable shopping bags, ask yourself this question: is Ralphs open on Thanksgiving?
Ralph's Thanksgiving 2021 Hours
There's nothing like driving to a store and hoping they have what you need — or are even open at all. Well, worry no more, because on Thanksgiving, all Ralphs stores will be open, according to a company spokesperson. Even better, most stores will be open late, until 10 p.m. That means if you run out of anything (like, you know, extra desserts or alcohol), you can always pick up an extra pumpkin pie — or a Pinot Noir. Most stores open at 6:00 a.m., too, so if you check your pantry and realize that your roasting pan got us, you can always dash out before the bird needs to get basted.
Ralphs's Thanksgiving Deals
But let's talk turkey for a minute, shall we? Ralphs has everything you'll need for your big day, and can literally walk you through your meal prep. There's a turkey sizing chart which can help you figure out how big a bird you need, plus tips on how to make it delicious… and not dry. Scroll down on the page and you'll find recipes that teach you how to roast, smoke, air fry, or even Instant Pot your turkey, and inventive ideas on what to do with those day-after leftovers.
Maybe wrestling a big bird into your oven isn't your idea of Thanksgiving fun. Well, you might want to adopt an attitude of gratitude for Marie Callender's Turkey & Stuffing Thanksgiving Pie Frozen Meal ($3.49). These individual frozen pies are made with turkey breast, stuffing, green beans, and corn, all enveloped in homemade gravy. You can always heat them up and then serve them in individual cast iron skillets so people think they're made from scratch.
You can also pick up plenty of fresh food items at Ralphs as well, including green beans ($1.49/lb), and Brussels Sprouts ($1.99 lb), or Kroger russet potatoes ($3.99/10 lb), which whip up heavenly as mashed potatoes. There is even a Deli Fresh Hot Whole Roasted Chicken ($7.99) for those who just don't like turkey on Thanksgiving. Dessert is always a main menu attraction, but if there just isn't enough room in the oven for a baked treat, just pick up a pie (like this Bakery Fresh Goodness Pumpkin Pie for $3.99). And for the kids who go nuts for nuggs, pick up a package of Home Chef Plain Breaded Chicken Tenders from the Fresh Prepared section. After all, seeing your kid eating (even if it's not the main meal) will make you feel grateful.
Although you'll find plenty of Thanksgiving foods to fill your table, what you can also shop for at Ralphs are holiday decorations as well. If you're starting to set your table and think your décor is looking downright depressing, you can always add glitzy pumpkins, wooden wall signs, or even a little gnome to brighten up your space. If there's enough space on your table, you can make room for this Glitzhome Fabric Turkey Standing Decoration ($54.99), which will spruce up your soiree.
From decorations to all the ingredients that you'll need for your meal (and even tips on how to prep and serve it), Ralphs can help make planning and prepping your Thanksgiving meal a lot easier. And that's definitely something to be thankful for.
.
This article was originally published on