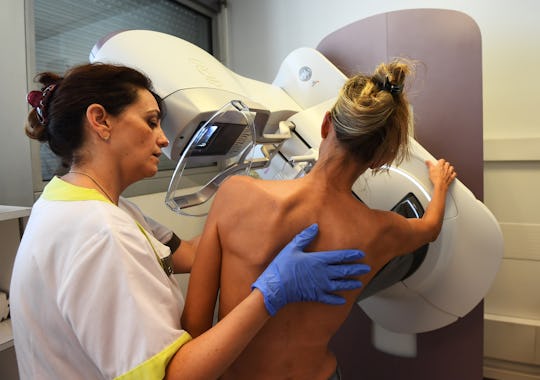 AFP Contributor/AFP/Getty Images
Routine Mammograms Should Now Start At 40 Years Old As Breast Cancer Rates Rise
Previous guidance said regular screenings could begin at 50.
If you were planning to wait until you are 50 years old to book your first mammogram, you might want to reconsider. While 50 was previously the recommended age to start booking routine mammograms, the X-ray screening that detects breast cancer, new guidance is now advising that 40 is the age when mammograms should start. The guidance was shared by the U.S. Preventive Services Task Force after receiving recommendations from a volunteer panel of national experts. Breast cancer is treatable with early detection, and experts want to see women over the age of 40 going in for mammograms every other year to encourage early detection.
Until now, medical guidance recommended that women begin going for yearly mammograms at the age of 50 unless their doctor suggested they go earlier based on their own personal health history. After breast cancer diagnoses have continued to climb in younger women across the country, experts have changed the recommendation to include all women regardless of personal history to start going for mammograms at 40.
"We don't really know why there has been an increase in breast cancer among women in their 40s," Dr. Carol Mangione, immediate past chair of the task force, told The New York Times. "But when more people in a certain age group are getting a condition, then screening of that group is going to be more impactful."
The previous recommendation to start mammograms at age 50 also included guidance from the American Cancer Society that women between the ages of 40-44 who are at "average risk" of breast cancer have the option to begin screening. Average risk would be a woman who has a family history or a personal history of breast cancer, had chest radiation before the age of 30 or could carry a genetic mutation that increases risk of cancer like the BRCA gene.
The shift in breast cancer screening guidelines is especially important as more and more women are being diagnosed. According to the Centers for Disease Control and Prevention (CDC), breast cancer is the number two cause of death in women, with 42,000 women in the U.S. dying of breast cancer each year as well as 500 men. Additionally, Black women are disproportionately affected and are more likely to die from breast cancer than white women.
"If all women followed our new recommendation, we could reduce mortality from breast cancer in the U.S. by about 20%," Mangione told NPR. "That's a big reduction in mortality from breast cancer. ... Starting at 40 actually creates the most benefit for Black women in our country."
The Affordable Health Care Act requires private health insurers to cover the cost of mammograms, making them free of charge to all patients. And with updated guidance, there's no reason to put off a mammogram once you turn 40.