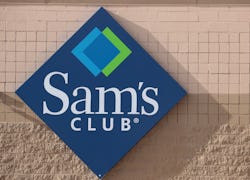 Here's What Sam's Club's Thanksgiving Hours Look Like This Year
Scott Olson/Getty Images News/Getty Images
Because you might need to know.
It happens to the best of us. You spend so much time prepping your menu and dusting off your high school algebra skills to figure out what size turkey you need, then inevitably, on Thanksgiving day, you realize you've forgotten some essential item, like aluminum foil or, god forbid, butter. That's when you might find yourself wondering, is Sam's Club open on Thanksgiving 2021?
Is Sam's Club Open On Thanksgiving Day 2021?
First the not so great news: Sam's Club will be closed all day on Thanksgiving 2021, which falls on Nov. 25 this year. The membership-only store is actually a subsidiary of Walmart (which is owned by Sam Walton, hence the names Walmart and Sam's Club), and Walmart will also be closed on Thanksgiving day. This information is posted on the Sam's Club website, and also on a press release statement put out by the brand.
Why Are Walmart & Sam's Club Closed On Thanksgiving 2021?
The better news? Walmart and Sam's Club stores are closed on Thanksgiving for a pretty good reason. Dacona Smith, executive vice president and chief operating officer for Walmart U.S. said in a press release, "Closing our stores on Thanksgiving Day is one way we're saying 'thank you' to our teams for their dedication and hard work this year. We hope everyone will take the opportunity to be with their loved ones during what's always a special time."
Since Thanksgiving is supposed to be about expressing gratitude, it seems fitting that the employees get a break as a way of saying thank you for their work this difficult year and beyond. Walmart has historically been open on Thanksgiving Day but gave employees the day off in 2020 and 2021.
Sam's Club will be open regular hours on Wednesday, Nov. 24 (the day before Thanksgiving) though the press release said that hours for Friday, Nov. 26, will be announced at a later date.
This article was originally published on