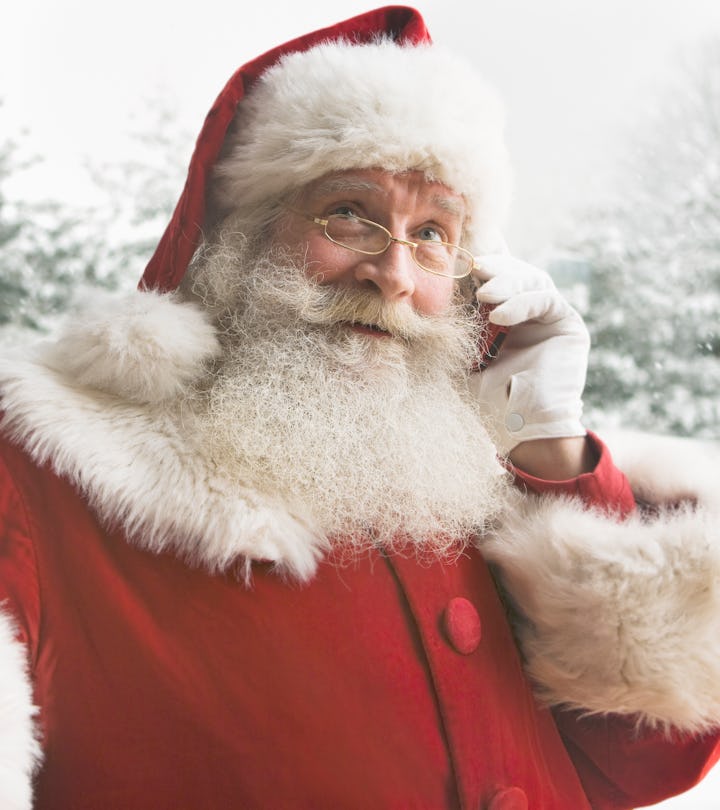 Jose Luis Pelaez/The Image Bank/Getty Images
Snap A Pic Of Santa In Your Living Room With These Free Apps
It's easy to delight your kids by "catching" Santa.
If your kid is not quite convinced that Santa really is coming this year, but you suspect they'd like to be sold on the idea, well guess what? There's an app for that. Catch Santa on your camera roll with these genius free apps that let you basically Photoshop Santa himself into your living room. It's like playing Pokémon, but you're catching Jolly Old Saint Nick instead.
It's creative as heck, and way more convincing than some of the things I've tried to convince my kids of the Santa myth. (Also, this requires 100% less glitter, which I am here for.) The apps are all basically the same. Simply film or take a picture of your living room or wherever Santa might be in your home. Then, click a button to insert and size Santa so that he fits appropriately into the space. Some of them have Santa unpacking presents, and others just have a Santa in repose. They're fairly user-friendly, and best of all, free. They're also available across iOS and Android. Just make sure to check the permissions you accept before you set them up to make sure you're not accidentally giving a free app information you don't want them to have.
I took the time to download and test drive all these (and more) applications to find the best and easiest to use. After excluding any apps that were slow to load, glitchy, or otherwise too costly. Here are the very best free "catch Santa" apps of the bunch.
Kids believe in Santa for such a brief period in their lives. Why not make it as magical and real as you can? The world and real life can creep in at a later date. Right now? It's time for fantasy.
This article was originally published on