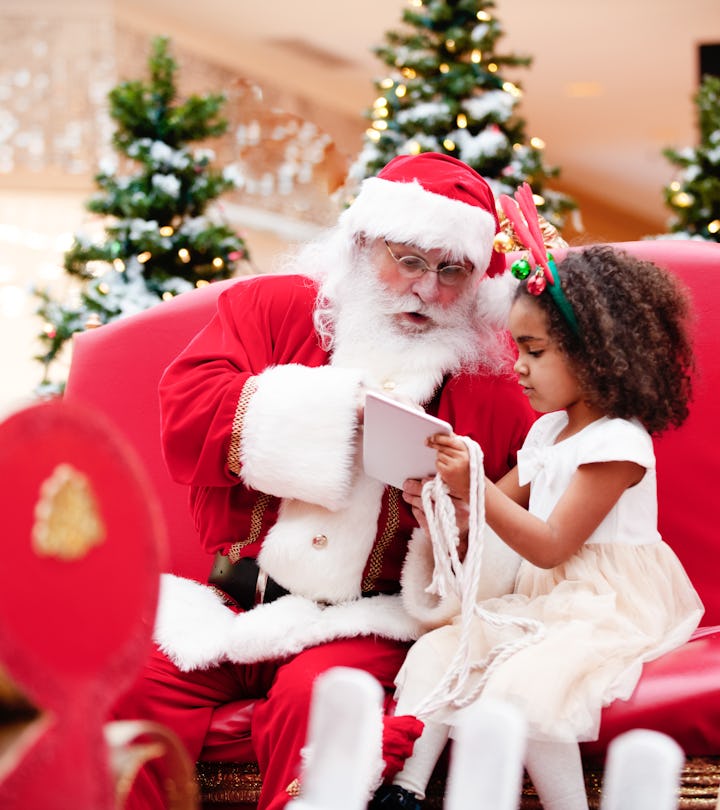 manonallard/E+/Getty Images
80 Santa Captions For Pics With Your Kids, New Baby, Secret Santa & More
Plus, cute captions for the pet parents.
When you're a parent, the most exciting parts of Christmas is teaching your kids about Santa Claus. That means taking your children to meet Santa for the first time, sending him letters at the North Pole, and baking cookies to leave out for him on Christmas Eve. And pictures of all those special moments should be shared with Santa captions that express just how magical it feels to be a parent this time of year.
When you're ready to post a pic, think about your favorite movies, songs, and quotes that celebrate jolly old St. Nick, and draw on them for inspiration for the perfect Santa Instagram captions. Or, consider some of these wintry, festive, jolly, magical, on-theme captions for pictures with Santa.
Baby's first time meeting Santa captions
The suspense was killing you — will they scream and throw a fit, or not mind at all? When you placed your little one on Santa's lap and nothing bad happened, you felt a big wave of relief. If your baby's first meet-up with Santa went surprisingly well, these first time meeting Santa captions will capture that feeling.
Not sure about naughty or nice, but somebody definitely made the cute list this year.
She acted like a perfect little sugarplum for Santa.
First impressions with Santa: sleighed it.
It was love at frost sight.
Santa's new favorite elf.
This will be a December to remember.
Pretty sure he asked Santa for more milk this year.
This picture will always make me a little Santa-mental.
Putting this here so we never fir-get.
He loved Santa. All that was missing was mistletoe.
So much cuter than an elf on a shelf.
Dear Santa, you can have the cookies, but the milk is mine.
Santa agreed: the best gifts come in small packages.
Crying with Santa picture captions
OK, let's be real though, how many kids actually sit on Santa Claus' lap without putting the man through a wrestling match? If your little ones gave Santa a real earful and you plan to post your baby's crying Santa picture, well, don't be shy. Your IG friends could use a good laugh.
When Santa asks why you've been so naughty, this happens.
They told Santa to go elf himself.
Oh deer...
The best way to spread Christmas cheer is screaming loud for all to hear.
Well, that's one way to make it onto the naughty list.
That face you make when they tell you Santa's been watching all year.
Nothing was calm, nothing was bright, but here's the picture.
Let's just say the kids were feeling frosty.
Someone brought their resting Grinch face to meet Santa.
Somebody got their tinsel in a tangle.
"You stink. You smell like beef and cheese, you don't smell like Santa." — Elf
What do you call people who are afraid of Santa Claus? Claustrophobic.
It's like they want stockings full of coal.
Bah humbug is an understatement.
List/letter to Santa captions
For many parents, sitting down with the kids to write letters to Santa and mail him their Christmas list is a beloved holiday family tradition. If you want to share a snapshot of your kids mulling over their wishlists and letters, use your caption to theorize about what they're saying, and to celebrate the magic of Santa Claus.
Dear Santa, is it too late now to say sorry?
Dear Santa, I can explain.
Dear Santa, define "nice."
Santa's not the only one who makes a list and checks it twice.
Alright Santa, here are your marching orders.
"The greatest thing is not to believe in Santa Claus; it is to be Santa Claus." — Pat Boone
"In this age of instant coffee, overnight rush deliveries, and 30-second media sound bites, it's not surprising that children have discovered that their letters to Santa Claus can be sent by email." — Patrick Flaherty
Captions for Santa photos with baby and kids
If you took all the kids to the mall to meet Santa Claus this year, first of all, you deserve a medal (and to post the pic online so the world knows you did the impossible). If your pictures with St. Nick include a new member of the family this year, work that fun detail into your Santa caption too.
Santa's little helpers.
All the elves live at my house, actually.
These wonderful things are the things we remember all through our lives.
The moment Santa realized he has to bring even more toys to our house this year.
Can we get a round of Sant-applause that there was no crying?
Santa's favorite filthy animals.
"Never deny the babies their Christmas! It is the shining seal set upon, a year of happiness. Let them believe in Santa Claus, or St. Nicholas, or Kris Kringle, or whatever name the jolly Dutch saint bears in your religion." — Mary Virginia Terhune
"Santa was here" Instagram captions
Is it a picture of your Christmas tree in the wee hours of the morning, all lit up with presents underneath? Or maybe a photo of Santa footprints across your living room floor? No matter what evidence you have that Santa was here, these captions will share the magic with your friends.
Looks like someone hurried down the chimney last night.
Santa stopped here.
The elves have been busy this year.
Don't you wish all house guests left presents?
Santa Claus came to town.
"All the world is happy when Santa Claus comes." — Maud Lindsay
"Seeing is believing, but sometimes the most real things in the world are the things we can't see." — The Polar Express
"I still believe in Santa, the Easter Bunny, the Tooth Fairy and true love. Don't even try to tell me different." — Dolly Parton
Cookies for Santa captions
Did you bake one of Santa's favorite cookies for him this year, or was it more of a slice-and-bake dough kind of year? Either way, he's sure to appreciate the treat, and your child will have fun figuring out where to leave Santa's snack.
Sweets for St. Nick: check.
Remember that Christmas is more than about presents. There are also cookies.
Holiday wishes, gingerbread crumbs, and peppermint kisses.
For Santa Claus, a balanced diet means a Christmas cookie in each hand.
It was tough, but we managed to save a few cookies for Santa.
Don't worry, there are carrots outside for the reindeer.
Is this considered a bribe?
Secret Santa Instagram captions
Hosting a Secret Santa exchange with your friends this year? You should definitely share a group photo on Instagram to look back on next year, and use these gift-giving Secret Santa captions to do it.
But first, let's take an elfie.
My Secret Santa has great taste.
Only one Secret Santa could know me this well.
My favorite cotton-headed ninnymuggins.
Merry Christmas, ya filthy animals.
The magic of Christmas: you can make someone forget the past with a present.
"Always give without remembering and always receive without forgetting." — Brian Tracy
SantaCon captions
Do you love celebrating Christmas with all the other diehard holiday fans at SantaCon? You need creative Santa Con captions to capture the fun, festive energy and share with your memories from this year's event.
We came to sleigh.
I'm just here for the cookies and milk.
The North Pole must be empty today because all the elves are here.
Keep calm and SantaCon.
Rebel without a Claus.
There's snow place like SantaCon.
Has anyone seen Rudolph?
"SANTA! Oh my God! Santa, here?! I know him! I know him!" — Elf
"We elves try to stick to the four main food groups: candy, candy canes, candy corns, and syrup." — Elf
Santa Instagram captions for pet parents
If you took your fur babies to meet the big guy this year, that's definitely something worth posting. Just don't miss an opportunity to get a little punny or pay homage to your pet's unique personality.
She was purr-fect for Santa this year.
Feliz naughty dog
Santa's little yelper
Oh my God, it's Santa Claws!
Bah Hum-pug.
We love Santa Paws.
Meowy Christmas!
When you're thinking about eating the naughty list.
Whatever Santa captions for Instagram you choose, your followers will love seeing what you and the fam are up to this Christmas season.
This article was originally published on