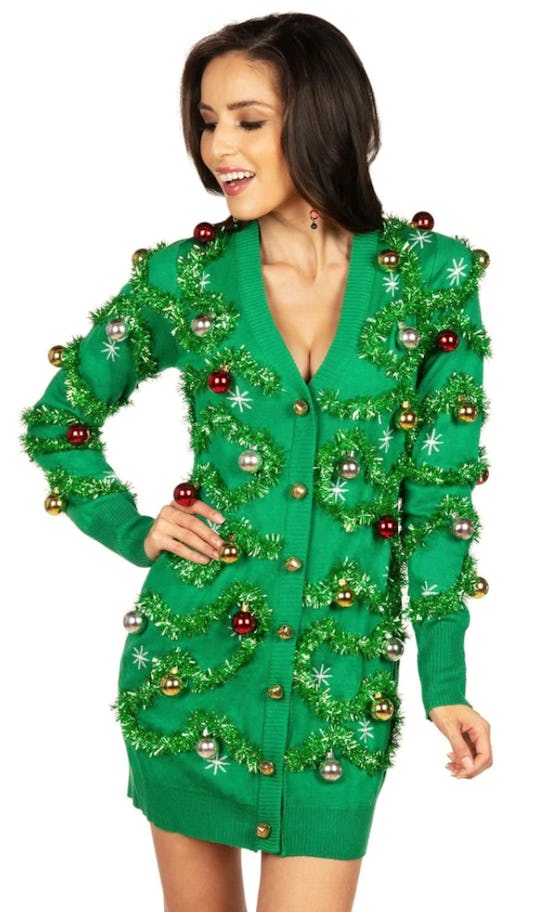 These 14 Sexy Ugly Christmas Sweaters Are Both Naughty & Nice
"So hurry down the chimney tonight..."
We may receive a portion of sales if you purchase a product through a link in this article.
Once again, it's "Ugly Christmas Sweater" event season. The tradition is always fun, but if you're tired of the frumpy styles that come along with these parties you may be on the hunt for some sexy ugly Christmas sweaters this year. Thankfully, if you dig deep into the depths of the internet, there are some options out there that are on-theme and hot.
Typically, ugly sweater parties are full of gaudy knit tops that would make Beverly Goldberg proud. The people who really get into the spirit of the party will often pair their sweater with a classic turtleneck (bonus points if it has a Christmas print), a Santa hat, or reindeer antlers (or, all three). The whole thing makes for some great memories and funny pictures to look back on, but leaves a bit to be desired in terms of style.
If you don't want to be a Grinch by not playing by the rules, but would also enjoy wearing something with a sexy twist to it, here's a list of 15 not-so-ugly Christmas sweater options. There's something for just about anyone here, including funny print graphics, sultry takes on otherwise cozy tops, and even some sweaters you may not be totally embarrassed to wear to another holiday event.
Ugly Christmas sweaters aren't always everyone's favorite way to spread holiday cheer. However, with the right group of friends, some good old-fashioned online shopping, and a bit of self-confidence, your ugly Christmas sweater can be your favorite (and sexiest) outfit of the holiday season. Santa and his elves won't know what hit them.
This article was originally published on