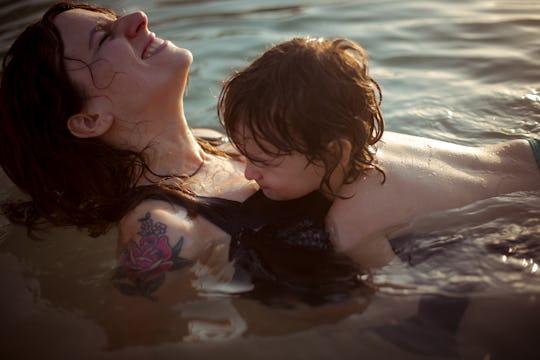 Image taken by Mayte Torres / Getty
How 10 Single Moms Feel About Hearing "Happy Father's Day, Mom!"
From humor to hurt, emotions run the gamut.
For millions of families all over the country, Father's Day isn't necessarily the way commercials and greeting card companies make it out to be. According to the Pew Research Center, nearly a quarter of children in the US are raised in a single-parent household, and the vast majority of those parents (more than 80%) are mothers. Lots of mamas are "doing it all" but... should we be telling single moms "Happy Father's Day"? We asked 10 single moms what they thought about this well intentioned salutation.
Greetings aside, talking to these mamas showed that there's no one way "single moms" feel about Father's Day. (It's almost like they're all, like, individual people and not a politically convenient monolith!) Sometimes the day is one full of complicated emotions... and sometimes it's just a day. Sometimes the day is emotional, but the emotions aren't terribly complicated. They feel happy or sad or angry or hurt or relieved or wistful or excited or vicariously hurt, which is a different emotion all together from ordinary hurt. Even the term "single mom" is interesting: there are lots of ways to be a single mom. You were never partnered to begin with, or you got divorced, or are widowed...
But what do single moms think about being told Happy Father's Day? Well, that completely depends on the single mom in question, but here's what 10 said when we asked...