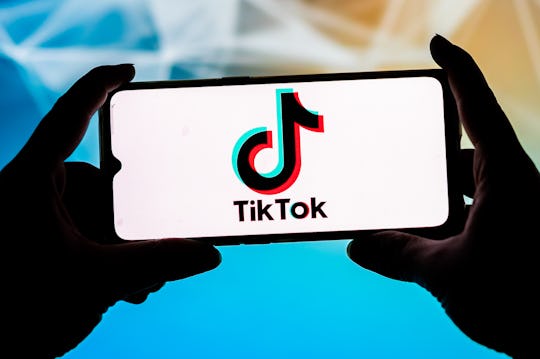 SOPA Images/LightRocket/Getty Images
A New TikTok Challenge Actually Encourages Kids To Assault Their Teachers
After dealing with widespread damage resulting from a previous trend, administrations aren't taking any chances.
Another day, another dumb viral trend that makes us roll our eyes and shake our fists in curmudgeonly exasperation. Yes, even as school districts have finally gotten over some of the damage inflicted on schools (especially bathrooms) as the result of September's "devious licks" trend, they're bracing themselves for the latest monstrosity social media has concocted, the "slap a teacher" on TikTok. We're only a few days into October and the trend already has schools on high alert, so here's what parents need to know.
This New Trend Comes In The Wake "Devious Licks"
At the beginning of the 2021-2022 academic year, schools across the country experienced vandalism and theft as a result of the viral "devious licks" challenge on TikTok, which encouraged students to steal something from their schools and film themselves taking it out of their backpack. The bigger or more difficult to steal, the more impressive. Many districts reported the theft or destruction of school property. Bathrooms items, such as soap dispensers, were common targets, but fire safety equipment, signage, phones, technology, and even teacher's personal property was reported to have been taken as a result of "devious licks." As such, some schools, like Sunlake High School, in Florida, threatened students with arrest if they were caught participating in the trend.
More TikTok Challenges Have Emerged
In late September, as "devious licks" died down (aided, in part, by TikTok scrubbing the hashtag and existing videos from the app), a new list of "challenges" emerged. While the origin of this list is unclear, it purports to have been originally posted by an education professional and has nevertheless circulated among reporters, teachers, and students on social media.
The list seems to imply that "devious licks" was part of a larger agenda of school pranks, where every month introduces a new (often seasonally appropriate) challenge to film for the app, ranging from traditional high school pranks to sexual assault. According to WCNC anchor Sarah French, they are as follows...
October: Smack a staff member on the backside
November: Kiss your friend's girlfriend at school
December: "Deck the halls and show your b***" in school halls (expose your private area)
January: Jab a breast
February: Mess up school signs
March: Make a mess in the courtyard or cafeteria
April: Grab some "eggz" (theft/stealing)
May: Ditch Day
June: Flip off front office
July: spray a neighbor fence [sic]
A South Carolina Teacher Has Reportedly Been A Victim Of The "Slap A Teacher" Challenge
On Oct.1, the first day of the purported challenge, the Lancaster County School District in South Carolina issued a statement on Facebook announcing that a teacher had been struck.
"Sadly, we actually had an elementary student assault a teacher by striking her in the back of the head," wrote Bryan Vaughn, Lancaster County's Director of School Safety and Transportation Services. "This type of behavior just like theft and destruction of property is not a prank. It's criminal behavior. Any student who physically assaults a staff member will be held responsible both legally and by board policy. Assault on a staff member is an expellable offense which means the student is removed from the school for the rest of the year."
Schools Have Been Proactive In Addressing The "Slap A Teacher" Challenge
Fortunately, the "slap a teacher" challenge seems to not to have gained the traction of "devious licks" and the incident in Lancaster County appears to be relatively isolated so far. Nevertheless, after suffering the consequences of a viral trend weeks before, schools are taking the "slap a teacher" challenge seriously. From Ohio to Texas, Illinois to Massachusetts, schools across the country are urging parents to talk to their children about the challenge and stress the seriousness of the consequences. Ahead of the challenge's start date, Miami-Dade County Public Schools Superintendent Albert Carvahlo warned on Twitter that the district "has zero tolerance for such behavior and will investigate and prosecute to the full extent of the law."
"It is unacceptable, it is reprehensible. It is against every social norm that we would accept in our community," he told WSVN-Miami. "On the other hand, I have to say that I really don't believe that any student in Miami-Dade County Public Schools would ever do such a thing."